Most recent:
ElevationLab presents "FamilyCharger" to charge up to five devices at the same time
Netflix facing the uphill battle of competing against Disney+ but get the feeling that as long as you can count with proposals as promising as 'Dark Crystal: The era of the resistance' ('The Dark Crystal: the Age of Resistance'), it will not be lacking for subscribers. Here we already have the first cash and trailer of this series that works as a prequel the cult movie of 1982.
Jim Henson and Frank Oz were responsible for the classic fantasy while Louis Leterrier ('The incredible Hulk', 'Now you see me…') has been busy directing the modern adaptation in ten episodes, which premiere is set for August 30.
even Though Leterrier doesn't seem the filmmaker most suited to orchestrate this project, what is certain is that this long teaser is promising and leaves you wanting more. The director has stated that the aim of the project was to re – the charm of the puppets, to the practical effects of the old school, limiting the use of green screens and digital creation as much as possible.
Repartazo for the original version of 'Dark Crystal: The era of the resistance'
Taron Egerton (from this weekend in billboard with 'Rocketman'), Anya Taylor-Joy ('Glass') and Nathalie Emmanuel ('Game of Thrones') lend their voices to the protagonists of 'Glass Dark: The era of resistance' in the original version. Eye with the other names in the cast, if you are hesitating to see it dubbed or in English: Mark Hamill, Helena Bonham Carter, Alicia Vikander, Mark Strong, Toby Jones, Simon Pegg, Natalie Dormer, Eddie Izzard, Theo James, Keegan-Michael Key, Andy Samberg and Jason Isaacs, among others.
The synopsis official reveals to us that the world of Thra is dying. The glass of the truth is in your heart, a source of power that is unprecedented. But is damaged, corrupted by the evil Skeksis, and a disease spreads through the land.
When three Gelflings discover the terrifying truth behind the power of the Skeksis, an adventure begins while the fires of rebellion to light and is about the epic battle for the planet…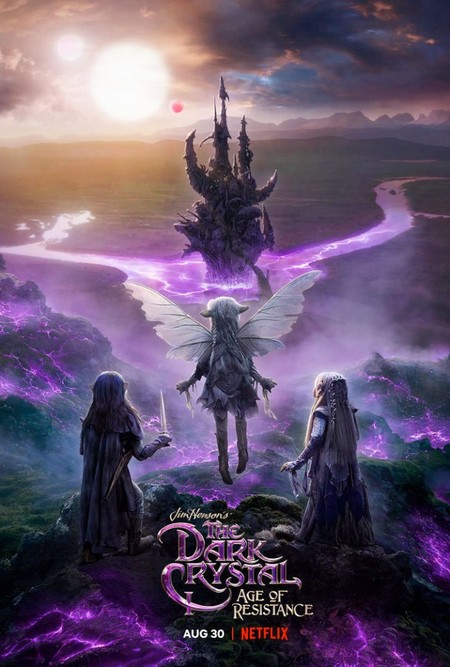 we Also recommend
Trailer for 'Friends with solera', the new Netflix movie in the service of Amy Poehler, Maya Rudolph and Tina Fey
'The Dark Crystal: Age of Resistance': New images from the prequel to the classic Jim Henson that will be on Netflix this summer
Trailer for 'Criminals in the sea,': Adam Sandler and Jennifer Aniston are back together for a comedy-mystery on Netflix
–
The news Trailer of 'the Dark Crystal: The era of resistance': the fantastic world of Jim Henson comes to Netflix in a promising series was originally published in Espinof by Juan Luis Caviaro .

Espinof
Trailer of 'the Dark Crystal: The era of resistance': the fantastic world of Jim Henson comes to Netflix in a promising series