Today, there is a new mobile that does not use "artificial intelligence" on your camera to choose scenes, to improve the portrait mode or bringing light to the night photos. If your mobile phone is not very smart about it, you always will be to use an app like Aicut, that brings a little bit of editing photos with AI to your mobile.
The application is currently not published in Google Play, which means that even it is not finished, but even so, it points ways. Among its virtues include being able to create photos portrait mode, to add the effect of Color Pop to your whim or even suggest hashtags to use on Instagram.
This is a person, this is background
Some mobile phones use various lenses to distinguish what is background and what not, while others, such as the Google Pixel 3, use a single camera and is the artificial intelligence that makes the calculations of rigor. Aicut follow this path, and allows you to apply the portrait mode to any picture, although you've done three years ago, or is downloaded from the Internet.
you Can take a picture directly or you can open it from the gallery. After doing so, the application analyzes and distinguishes by itself between what is an object and what is the background. The analysis itself is acceptable in most cases, even when they are not people -but a pet, for example – is when the result is more psychedelic. If there are errors, you can edit it manually, by painting over the image (although it is not very comfortable, everything is said).
After that you can apply a different filter to the background and the object in the foreground, or use one of the five presets available for now: portrait, Pop Color, fantasy, natural, correct backlit. These presets are combinations of filters ready to use. You can see the result in real time.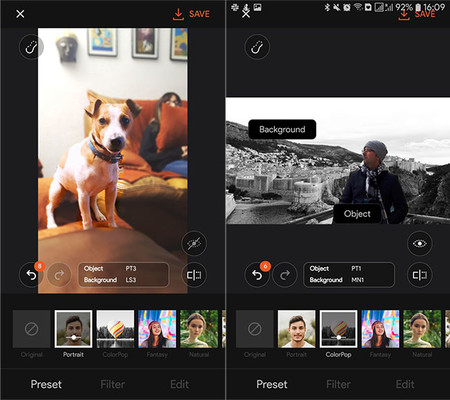 although the app is still unpublished, the behavior is as expected and there is no unexpected shutdown. The only thing that I have noticed in my testing is that the blur effect is applied pixellation in some pictures. With luck this will be fixed in later versions.
Also suggests hashtags
For me, the most interesting function of Aicut is the generation of hashtags. To do this you only need to record an image, and then you see a string of hashtags related to a greater or lesser extent with the photo in question.
If you're a lazy tremendous thinking and writing hashtags to accompany your posts, this app can save you valuable time, because when you tap on Publish to instagram copy all of these hashtags to clipboard, so that you can paste into the publication. Magic.
Aicut – AI Photo Editor
we Also recommend
These are all the deaths that would have suffered without technology
Google explains how it works mode Top Shot of the Pixel 3
Test Hello Neighbor for Android: something weird happening with the neighbor in this game full of suspense
–
The news Aicut, an app to create photos with portrait mode and suggest hashtags related by IA was originally published in Xataka Android by Ivan Ramirez .

Xataka Android
Aicut, an app to create photos with portrait mode and suggest hashtags related by IA
Source: english
April 8, 2019