Hector PLAINS
Return to movie willing to break records with 'Eight Catalan surname ' and we saw him on television in the most varied facets.
Dani Rovira tries to build on its success to help others while fighting for fame not limit their freedom of expression.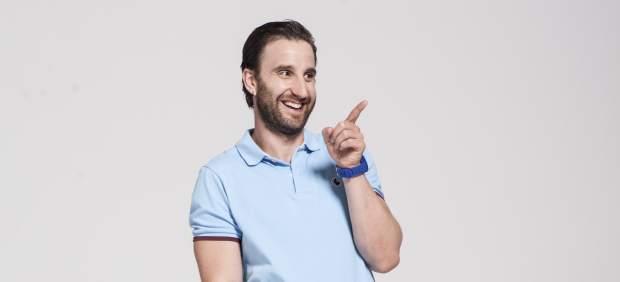 One thing is to have professional success in every project you do and what else is happening to Dani Rovira . all what the protagonist of eight Basque surnames seems affair of state. Until the government leadership pays special attention to his wishes, as he tells us in this talk. The comic and actor is the first surprised by this situation, which also has its negative reverse. Just released Eight Catalan surnames, the sequel that made him a social phenomenon and this time his mood shifts to new land, with the addition of Rosa Maria Sarda and Berto Romero the deal.
In this comprehensive monitoring that make photographers, we have been practicing all kinds of sports and adrenalin lover she confesses. Maybe that's why it continues to enjoy the stand-up comedy, with which began as an actor and also cemented his hit TV The Comedy Club . Says that presenting ceremony of the Goya Awards a few months ago it was like a marathon monologue. Now he is about to repetir experience as master of ceremonies for the next edition , earlier this year.
Is it good time to release a comedy about Catalan identity?
Pufff … Well I do not know. Does anyone know? I guess commercially may be the best time, because the matter is when it's on everyone's lips, both for good and for bad. In addition, the opening match between two very important dates: One month after the Catalan elections and one before general and also 20-N, which has banter date
. What we found in this issue?
We're going to find the real stamp of Eight Basque surnames, as the redirects Emilio Martinez Lazaro, because it tells us, the actors, again, and because those who have joined this time have captured the essence of our history. By the feeling I had to shoot it, I think it is a film with much more humor than the previous; It is much more fun. Within the genre of romantic comedy, this time I think it's much more 'romantic' and more 'comedy', but may not have the wow factor that generated blockbuster social and tsunami which we live. My feeling is that it can be much better.
The quartet protagonist already have taken so far, but how was it working with new, Berto Romero and Rosa Maria Sarda?
He is one of the fastest and intelligent types that may exist in the service of humor. We are very lucky in this profession to have someone like him. With it we have enjoyed very much. Although his health is now a little delicate, each sequence has an interpretive his lesson. Despite being tired and having ailments, when filming was infallible aunt. In addition, you'll see that it has built a wonderful character.
A few months ago, the Catalan National Assembly used some of his statements to campaign with them. Are you afraid that something like this could happen again with the release of this movie?
I will not sit well that will use my words out of context for their own economic and even political gain. As a free person I am, I express my opinion without problems.
And what is your position today with regard to the Catalan situation?
Prefer not to an answer, I do not care publicly manifest.
Is that a while now, everything he says or does is look closely.
It takes as you can, because, being aware of it, I'm going slope warily to everything I say or do. I do not want my freedom remains alibi, but I've learned to be more cautious and elegant; I have to think myself very well things before releasing and better informed about what I'm going to say, either on Twitter, in an interview like this or on camera at a premiere.
A his multiple television facets is the monologues, with which it has obtained great effect.
It's what I started doing when I went to actor, so in that format I feel very comfortable either in a theater or on camera The Comedy Club . The program is recorded in a theater packed with enthusiastic audience and forget there are cameras and that is television, just enjoy the moment. It is even more immediate than the theater because the audience reacts almost every sentence you say. It forces you to be very alert the time when you're on stage, it's an adrenaline that gives much life to the profession.
In brief will be in charge of the gala Goya. Given that does not like to repeat things, presumably everything will be different from last year.
As far as I'm concerned, I try to change as much as possible, but as far as it goes, because it is a format in which there are many elements that can not miss (awards, speeches, musical moments …). For months mulling ideas with the director and my fellow writers to innovate. The first time was all fine. They looked very closely, but the result was good. I guess this time will be waiting to see where we failed, but I assume that risk.
Are you pathological liar?
Never. As I've been a fan of someone it is Faemino and tired. When I started in the profession unconsciously I decided not soak too much of one because he was afraid to look like others. The whole process of creating my character and artistic growth did not rely on that. I spoke of other comedians and I had no idea. The enrichment came later, when I created my own label; and that was when I discovered Pepe Rubianes and Pedro Reyes, and then Americans as Louis CK
One film that particularly marked.
Out of many, Big Fish , Tim Burton. I think that is the big film about storytelling, which is what I have been for many years. He relates very well that mixture between magic and reality in the minds of those engaged in something.
Why is especially sensitized to the protection of animal rights?
I guess it's a question of skin. I have spent many years working in Malaga on various associations dealing with Down syndrome, cerebral palsy, drug addiction … One is the protector of animals and it is true that is what hurts me most, I guess because they are the only they do not have the ability to defend themselves. I seem most vulnerable. I convey the emotion and pain that can come to feel their cause is greater. I think I'm at a time in which I can work to help change things, do it with all the pleasure.
In fact, The Ant has been given the opportunity to develop their work to viewers in this respect.
I accept participate much appreciated, but I think that is the thanks I have to give them, because it is a very necessary section in a program of this nature. I have opened a wonderful window.
recently agreed in the program with the Deputy Prime Minister, Saenz de Santamaria.
I asked directly to give a return of nut to the Criminal Code regarding animal cruelty and off camera, the next day he contacted me the Minister of Justice to extend the dialogue. It is the good part of that brutal awakening attention everything I do. Since I do not consider myself important enough to deserve it, I feel great to divert that attention to things how are you.
Are you going to vote in December? Do you think it's worth voting?
always worth voting, by the mere fact that our grandparents could not. In this country we have fought hard to have that right. Another very different thing is that the opinion that the democracy we have now exists only once every four years and not daily, as it should be. Casts someone for four years to do what the fuck out. Anyway, for now the only way we can complain and express our opinion on this issue is going to vote. So yes I will go. Although not agree with any political option, there is always an alternative, however small, that is something we feel identified, as Animalist Party, without going any further.
Cine
Dani Rovira: "Now I will tread carefully, think things before releasing"
Source: english
November 27, 2015