The Wii game far outweighs the sales that it has achieved the delivery of a Wii U in the last fiscal year.
During the last fiscal year Mario Kart Wii, which was launched in 2008, has sold five times more units Mario Kart 8 for the Wii U, which was released in 2014.
Video: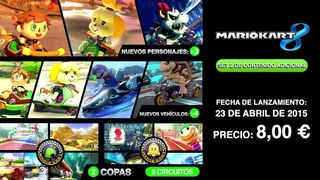 is that while Mario Kart 8 Deluxe launched in 2017 for Nintendo Switch is the delivery's most successful moment, as expected, it calls the attention that the version of Wii, launched ten years ago, is sold to a better pace that the delivery of the Wii U.
This shows, once more, the poor reception that had the predecessor of Wii U in the marketplace and how sales of its games have been precipitated, while some titles of the veteran Wii remain outstanding.

And is that in the last fiscal year Mario Kart Wii has sold 100,000 units, but Mario Kart 8 has stayed at 20,000. Mario Kart Wii accumulates a total of 37,20 million units sold and Mario Kart 8, one of the biggest commercial successes of Wii U, 8,44 million. For his part, Mario Kart 8 Deluxe in the Nintendo Switch has already surpassed 15 million.
During the last year, Mario Kart Wii has quintupled the sales of MK8 Wii U
Source: english
May 6, 2019