Bethesda detailing what is to come.
Bethesda celebrated the 100 days of the launch Fallout 76 explaining and reinforcing their engagement with the video game to short -, medium-and long-term. The company, which recognises that this game has been a cure of humility has confirmed that 2019 will be full of content and new challenges in the universe post-apocalyptic game.
The initial failure of Fallout 76 has been a humbling to Bethesda
"there is nothing like the start of something new: for you and for us. And the fact is that having millions of players to our side to join us in this adventure is a humbling for this study. We want to thank you for helping us to unravel together the strands of this experience online. And when we say "together", what we say from the heart", explained an official.
"Still there is still more work to do, but we are proud to be able to say that the stability of the game and the servers has increased by over 300 % since its launch. We are hallucinating with how much you are playing: an average of 4 hours a day!", pointed. "That said, we are aware that the game had a launch complicated and we have committed errors during the process. We share your frustration with all of this", they added.
"We are aware that the game had a launch complicated, and we have made mistakes during the process,"
"we Want you to know that we are consecrated body and soul to make this the best game possible, and even more: a platform for countless adventures in the world of Fallout during the next few years," communicated while thanking the support of the players. "Your voice encourages us to improve every day, and your support is everything to us. We will do what is possible for deserve it", concluded.
Three major free updates for 2019
Fallout 76, therefore, will have three major content updates for free by 2019. Will arrive in spring, summer and fall, will change the way you play and added missions, campaigns, challenges and features. We leave you with his official description.
Wild Appalachia – Spring 2019
New quests: you Go for wool and come out terrified! – Discover the secrets "encríptidos" of Appalachia in a new series of missions and encounters through which averiguaréis there any truth in the myths of cryptozoology.
New quests: Always up! – We explore the furthest reaches of the forests, with new stories for the legendary boy scouts! Win badges of merit, ascended within the organization and receive a backpack customizable the sea of practice.
New features: seller and scrapping legendary – Seek the provider mysterious to do business with him and to scrap your legendary items to get legendary team again. For every star that has a legendary item that desguacéis, the more likely it will be to have the armor or the legendary item of your dreams.
New features: decoration of the C. A. M. P., vending machines and camera – Use items from the stash to decorate your C. A. M. P. Fabricad vending machines and put things on sale. You only have to set the price and continue with your adventures in Appalachia (without forget about to immortalize the best moments with the wonderful pictures of the new camera, please). The vending machines do all the work, you only have to count the sheets.
New features: brewing and distilling drinks – throw yourselves into a mission to discover the secrets of the forbidden Nukashine, and rematad the party in your C. A. M. P. with new systems and new recipes for brewing and distilling.
New event seasonal: parade of shrove Tuesday – you Have to Winter the Old and celebrate the arrival of spring during the ancient festival of shrove Tuesday! Sumaos to the celebrations and attend this new event and for a limited time to win a festive and original masks of Fasnacht.
New game mode: Survival – This new game mode offers a Pvp experience more risky, with fewer restrictions, the more rewards and new challenges, in addition to all the original content in the Adventure mode.
Nuclear Winter – Summer 2019
The summer will bring us another series of important developments in Fallout 76, including the content of Nuclear Winter, that is a way to play totally new that will change the rules of the Wasteland.
New game mode:, Nuclear Winter, an entirely new way to play Fallout 76, which will change up and down the rules of the Wasteland.
New looting of shelters: shelters 96 and 94 to open its doors – The new looting of shelters of high level will allow our players more veterans to test their strength in a group.
New feature: legendary players – The new system of prestige will allow players to exceed the level 50 to become legendary and to restart their characters with new skills and even more powerful.
Westelanders – Fall 2019
Embarcaos in a story with real decisions and consequences in the largest and most ambitious expansion of Fallout 76: Wastelanders. Includes a new main story, new factions, events, features, and more surprises.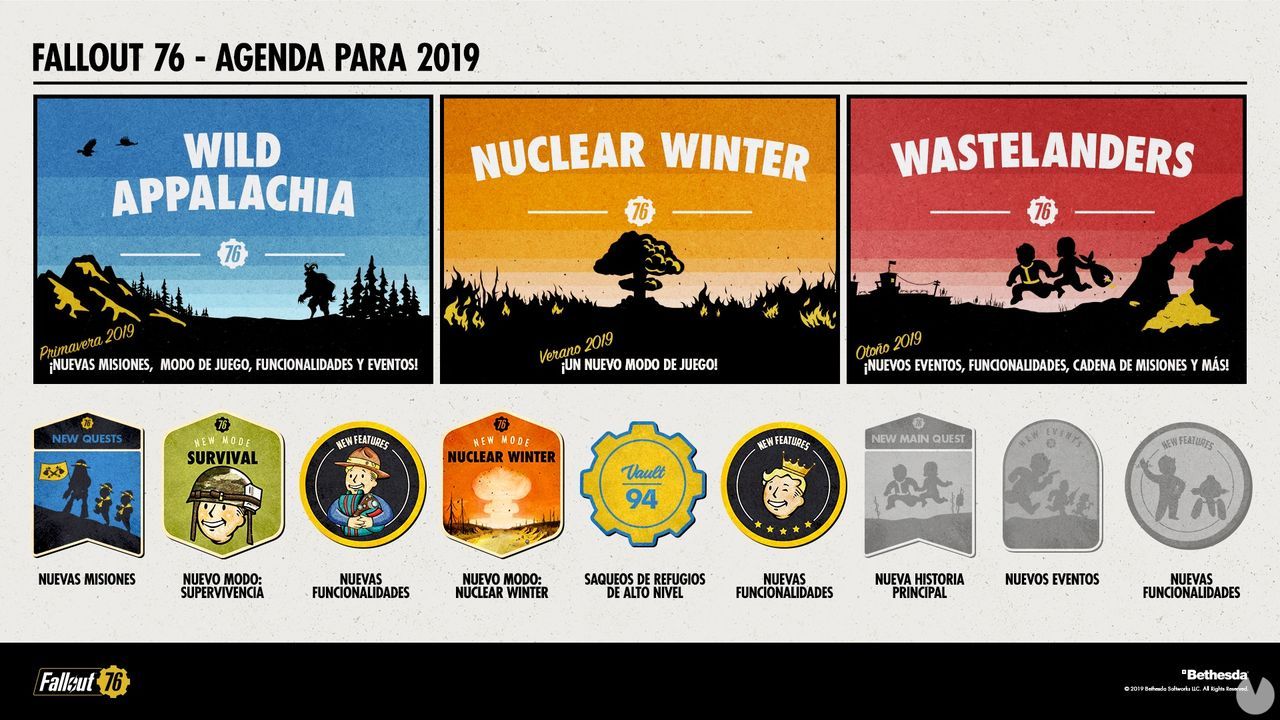 Fallout 76 details his plan of updates and content for the next few months
Source: english
February 22, 2019