The offer may vary from region to region, but generally the search engine that you can use in Google Chrome for Android are Google, Yahoo!, Bing, Ask and AOL. What if you don't like any of them and you prefer another one like DuckDuckGo?
The good news is that you can use many other search engines on Chrome for Android, although the process has something of a trick. If you're tired of always look the same, so you can add other search engines to Chrome.
What is included?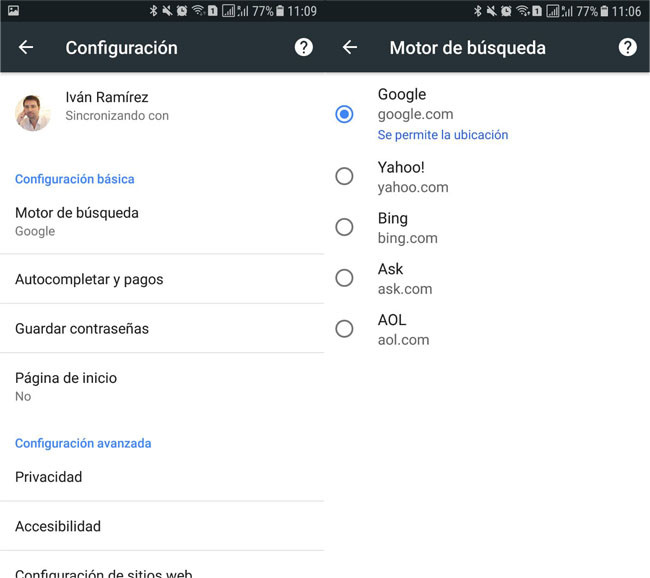 How can you change the default search of Google Chrome? Very simple: open the Chrome menu and choose Settings. Then tap on search Engine and you'll get a handful of options that come from the factory. As mentioned before, the list may vary from one region to another.
How to use other search engines?
The above list seems pretty closed and there is no option to add other search engines, so how can you add them to the browser? The answer is simple: first you should visit the page of this search engine in Chrome. For example, the web DuckDuckGo. If the page itself has a banner urging you to add the search engine to Chrome, tap it.
Now, when you go back to Chrome Settings – search Engines, you will see that there is a new category called recently Visited, where it appears in this case DuckDuckGo. Unfortunately, this option only appears in a very limited search engine.
The effect is immediately, but remember that only applies to the searches that you make directly from the address bar of Google Chrome, and not to do from the Google bar, you will still be using Google.
In Xataka Android | Chrome 64 for Android brings two new features are necessary: blocking pop ups and mute videos that autoreproducen
–
The news How to use DuckDuckGo in Google Chrome for Android was originally published in Xataka Android by Ivan Ramirez .

Xataka Android
How to use DuckDuckGo in Chrome for Android
Source: english
February 9, 2018