The virtual reality game exclusive to PS4 that puts us in the skin of Tony Stark already has a date, and it will be sold in two editions: standard and digital deluxe, with several extras.
on the occasion of the New York Comic con, where we have had news the new set of The Avengers, Sony and Marvel have announced that Iron Man VR, the virtual reality game of PlayStation VR, will be for sale the February 28, 2020.
To celebrate they have released a new trailer focused on the story, that you can see below:
put yourself in the shoes of Tony Stark
Iron Man VR is an action game in virtual reality that will enable us to feel like the powerful Iron Man, flying through the sky while shooting energy projectiles fighting all sorts of threats.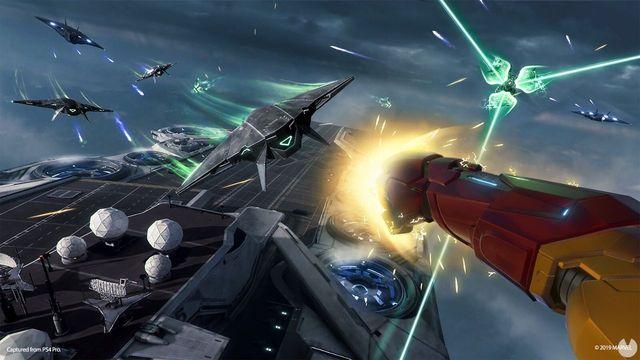 In this game, not only will we be the well-known superhero, and also we will get into the skin of the charismatic Tony Stark, interacting with the world and choosing between options dialog to live your life inside and outside of the armor.
With a history of the elaborate, the main villain will be the data-pirate Ghost.
editions that will be for sale
Iron Man VR will have two editions: A Standard Edition (available in physical and digital formats), with a price of 39,99 € .
on the other side will be the Digital Edition Deluxe (available only in digital format), which will have a price of 49,99 €, and shall include the following:
The game Marvel's Iron Man VR.
4 armor, decorative custom deluxe (Avenger Gold, Centurion Black, Sting and Solar armor of stealth).
12 points of research: these points are obtained by analyzing the performance of Iron Man in combat. All this information allows you to F. R. I. D. A. Y. to develop new technologies (weapons and increases) for the armor boost. Research points allow you to unlock it before some weapons and increases, in addition to customizing the style of game.
soundtrack digital deluxe of Marvel's Iron Man VR.
Theme for PS4 Digital Edition Deluxe of Marvel's Iron Man VR.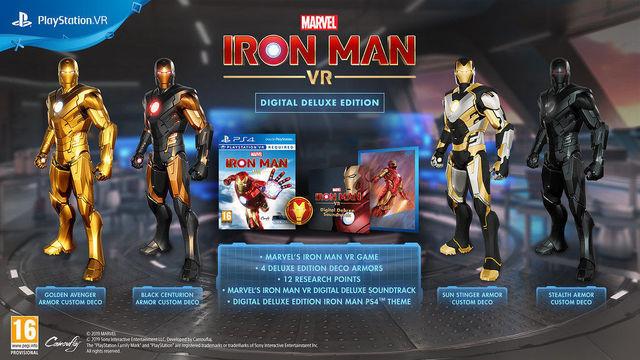 in Addition to booking any of the two editions you will receive a code to get the following extras:
4 armor, decorative custom (armor original armor vintage, armor of Centurion Silver armour and ultraviolet).
dynamic Theme of Marvel's Iron Man VR to PS4.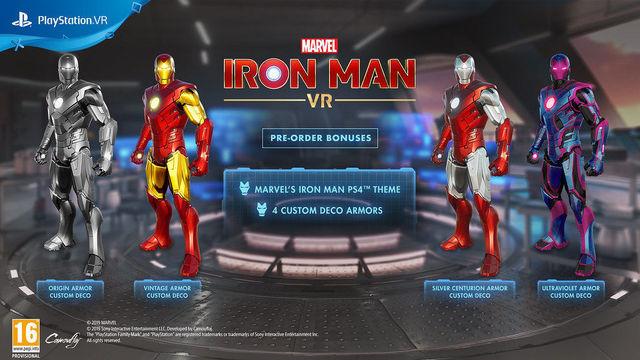 How to play Iron Man VR?
This game for PlayStation VR it is one of the most ambitious that have been developed never for this device of virtual reality, and if you want to know in detail how it works your gameplay, you can read the impressions that we published last month of April, because we were able to try it for the first time.
Iron Man VR for PlayStation VR already has a release date: February 28, 2020
Source: english
October 4, 2019