It is awarded for his career in the video game industry.
James Armstrong , which announced his retirement as Vice President and Director of Sony Iberia geneneral attend Fun & Serious Game Festival . There receive a prize of honor in recognition of his career.
An award to a path
Fun & Serious Game Festival wanted reward James Armstrong for his life and work with the video game industry in Spain. Armstrong himself said: "For me it is a
real honor to collect this award in a reference event for the video game industry
as Fun & Serious Game Festival, especially as special as the present PlayStation. has completed 20 years, two decades full of challenges, some difficulties, but above all, great satisfaction "
The former vice president and general manager of the firm in the Iberian Peninsula, he continued:".
I am happy to work in an industry that breathes passion, dynamism and excellence
and, specifically, in a brand like PlayStation that has been so successful. I feel
proud to belong to this family and I dedicate this award all who are part of it
".
A reference event for the games industry
Fun & Serious Game Festival, to be held in Bilbao from November 26 to December 1 , and offers a unique setting to understand and better understand the gaming industry and its role in Spain and the world, it will also host talks by various renowned personalities, contests and activities such as round tables or places of networking .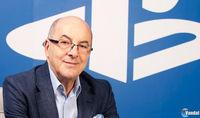 clear='all'/>


Vandal
James Armstrong, former CEO of Sony Iberia, will receive an award at the Fun & Serious Game Festival
Source: english
November 20, 2015