It is based on the designs of Metal Gear Solid. V: The Phantom Pain
Triumph and Konami have announced a special contribution in the form of a motorcycle Venom made following the inspiration of Metal Gear Solid V:. The Phantom Pain
The Venom bike is inspired by legendary Triumph Bonneville T100 riding Snake in the game, to be launched in September, and is a personal construction created by the team at Triumph. The challenge was bring to life the spirit of Snake through a unique and detailed style, including the game-inspired graphics and the recognized logo of Diamond Dogs.
The leader of the group Diamond Dog game has few urban needs, so the mirrors, speedometer, and tachometer were modified by a more functional version. From there, this kind of Bonneville T100 has evolved into the perfect vehicle roads.
Functions for off-road are handled with ease thanks to Custom wheels equipped with Ground rubber shape centered TKC80 Continental tire. The seat has been cut and glazed in neoprene and leather carbon Kevlar inspired by the iconic Snake combat suit. An ammunition loading heavy duty wraps around the back of the saddle, offering protection and a safe place to screw one or two additional cases
gauge 50. The housing of the yellow optical JVB Rumbler and air springs give an aggressive image at the front while the profile is exaggerated by the lack of front fender. At the rear, fender cutting and the end of the exhaust pipe endow it with more personality . The rear cut down and a light in the form of exclamation add to the individuality of the machine. Matching color calibrator and cover are other highlights additional details, plus the exhaust pipe is cut to create a sound that will attract all eyes. Details like a road footrests Triumph Tiger, a sprocket Renthal performance, machined covers the throttle body and Triumph sports levers help make this bike as unique as its driver. Finally, Diamond Dogs resistant matte black printed clearly linked to the bike with its owner set to creating a Bonneville Snake.
This bike will be present in multiple events throughout the year to mark the launch of the game .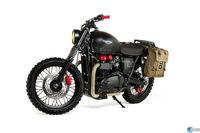 Vandal
Konami and Triumph have the custom bike Venom
Source: english
May 30, 2015