late last year, the manufacturer Xiaomi released for any device Android Little Launcher, the application launcher of your Pocophone that in recent months has surpassed five million downloads in Google Play.
Little Launcher boasts to be a launcher of apps, lightweight and fast with a design very minimalist. Now this launcher launches dark mode with its latest update.
How to activate the dark theme a Little Launcher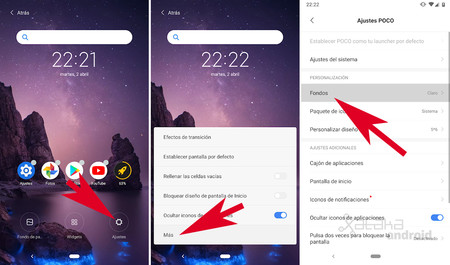 The new dark mode Little Launcher is activated from the settings of the launcher. To do this we need to follow these steps:
Make a long press on an empty area of the home screen.
Tap Settings.
Tap More.
Enter in the new option Funds.
In this new Funds we can choose the light theme or the new dark theme. In addition, you can adjust the transparency of the background of the app drawer.
The dark mode of Bit Launcher goes black the background of the application drawer, settings and in dark grey the quick actions menu of the application.
Launcher LITTLE
we Also recommend
Nova Launcher 6.0 is already here: we look to fund all of its news
These are all the deaths that would have suffered without technology
Before Launcher, a launcher more minimalist in that you can only add eight apps
–
The news Little Launcher: this activates the new dark theme in the application launcher of Xiaomi was originally published in Xataka Android by Cosmos .

Xataka Android
Little Launcher: this activates the new dark theme in the application launcher of Xiaomi
Source: english
April 2, 2019