January 1, will begin this event that is going to give us new surprises for two weeks, celebrating 2020.
Mario Kart Tour, the racing game of Mario and company for mobile devices, is preparing for the New Year celebration and for the commemoration premiered:, a few days to put the finishing touch to 2019, a new promotional video that you can see below:
Video: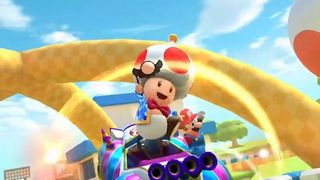 This event will allow you to enjoy four new riders, as well as new karts. This special tour of the New Year will open January 1 and will be available until the 14th day of the same month.
As shown in the video, will Mario with a aspecot inspired by the costumes that we have seen in Super Mario Odyssey. Toad, for its part, will receive a party hat, bow tie and a mask that will be in mid-leap reminiscent of a certain plumber.
These characters are temporary and specific to this tour, but we must also add a Gold Koopa (takes hat gold instead of the usual red) and a Yoshi red.
Many events during the holidays
During the month of December have been carried out several special tours that have made the players to enjoy Mario and Daisy in the style of Santa Claus, Yoshi as a reindeer or Pauline with costume party, among many other surprises that have been adding to celebrate as parties with users of this title for mobile phones.
we invite You to visit our tips to get coins and rubies in the best possible way to make the most of this new season. Mario Kart Tour is available for Android and iOS devices from the past month of September, and in these dates is preparing for a multiplayer beta exclusive.
Mario Kart Tour presents your event to the spice of the New Year with a new promotional video
Source: english
December 28, 2019