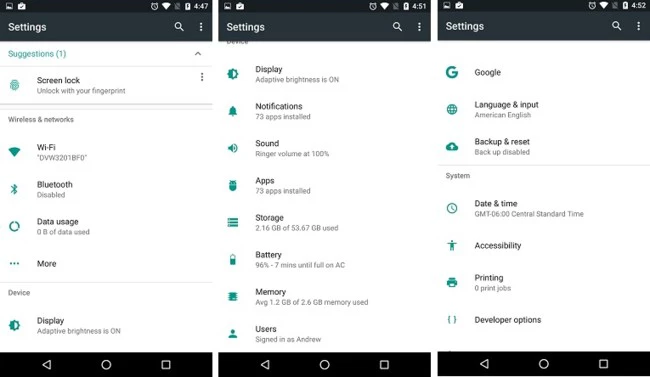 they speak little of it, but with each new version of Android should always keep an eye on changes in the Settings menu because it is a place where you will spend many times throughout your relationship with that operating system. Well, maybe this time less thanks to the apertura of rapid adjustments developers will bring Android N .
The big news, which had been leaked before its final revelation, is the burger menu to facilitate mobility between sections without having to spend all time by the central screen. There is also some rearrangement of the elements and a few touches of style.
D'today's VPNS are trend and it is the best ...
Menu burger
It is that which unfolds from left to right floating form over content from the shaped button three horizontal stripes that is located in the upper right. Offers quick access to the same sub-themes that are in the main Settings from any screen. The contents are divided into the same four sections:. Wireless networks and connections, device, personal and system
it is not the first time that Google uses this type of presentation. He has used in most Android applications such as Gmail, Photos, Documents, Keep or Google+. It has also been adopted by web designers as a way to make different categories of content for mobile navigation more accessible.
There is hardly any difference in paragraphs. For now we know the separation between "sound" and "Notifications" , as more and more channels than the ear to receive them, and the including "Play and Pay" on the main page. We know that mobile phones are increasingly replacing the credit cards and must be enforced.
even simpler visual style
Shortly changes to the style, you can even go through be the same at a glance. By looking in detail there are two differences. The first is that the settings menu main page has lost the faint gray horizontal lines that separate until Marshmallow each concept within a section, and the second is that sections are no longer watertight drawers let see a background including, but are divided only by a thin line.
Surprisingly this new style applies only to the main Settings screen. Upon entering each subemenú, such as the internal storage -> Applications, the presentation is exactly the same. I guess the change will come in one of the reviews planned for this spring and finally the entire presentation will be unified under the new model.
In general, Android N arrives with a continuo menu in organization and more flexible design thanks to the burger menu. Therefore it should not pose any headache, and less quick adjustments if we save a few trips this time.
Images | Android Authority
In Engadget Android | Android N is here, do not miss any details
–
The news Meet the renewed Android settings menu N was originally published in ​​ Engadget Android by Sergio Figueroa .

Engadget Android
Meet the revamped Android settings menu N