Mojang suddenly decided to take the project to other consoles and platforms more powerful, significantly increasing the scale and ambition of the game.
Mojang conceived Minecraft Dungeons as a video game for Nintendo 3DS. However, the study soon wanted to go beyond and convert your project into something bigger, complex and suitable for the current platforms. In a new video on the development of this particular spin-off of the universe Minecraft, titled Minecraft Dungeons Diaries: Origins, the developer and publisher explains the origins of this action adventure and role-playing.
A different game but faithful to the original concept
"it All started when we were trying to find a game that is good and curd in the style Minecraft for the 3DS", explained the creative director, Jens Bergensten. "We played with a lot of different ideas, but finally make a dungeon crawler was something that really impressed us," she said. In this way, both Mojang as the creators of the original video game of Minecraft decided to collaborate to make a project consistent with the classic title, that would work on the core gameplay of Minecraft, and that also had the touch of the role and the action to which it aspired. A clear goal: easy, simple and understandable for any audience.
Video: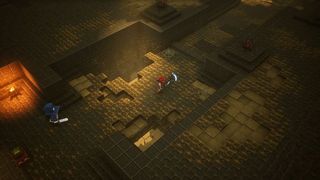 The idea of a dungeon crawler in the universe of Minecraft impressed us
"The characters of Minecraft does not have inherent abilities. Don't have skills, you have no skills in the game, none of that is what you find with your time or with your progress," says the director of the game, Måns Olson. "In contrast, in Minecraft Dungeons we focus a lot on 'you're only as good as your team'. Find weapons, find armour and am totally into you, and that becomes your character", he concluded. Without going more far, the development team believes that if the title concrete, and receives the support of the public, might dare with other genres and facets.
Minecraft: Dungeons will arrive in 2020 to the Xbox One, Switch, PS4 and PC.
Minecraft Dungeons began its life as a video game for the Nintendo 3DS
Source: english
October 28, 2019