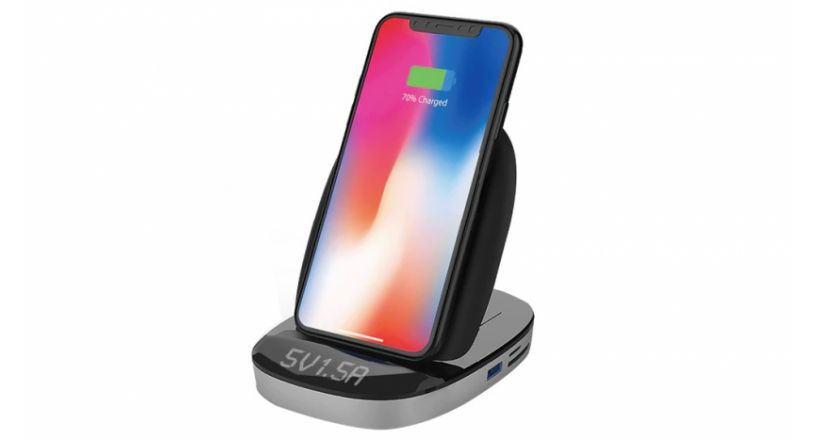 The new HyperDrive is a hub 8 in 1 USB-C also allows to load in the form wireless to iPhone with fast charge 7.5 W Qi wireless.
The hub has a cable wrap that converts a single USB port-C-8 ports: 4K HDMI, Gigabit Ethernet, microSD, SD, 3 x USB 3.1 and USB-C with load. The cable can be disconnected if the user wants to.
Also works as a charger Qi wireless charging standard with support for high-speed 7.5" for iPhone, 8/X, and with support for fast charge to Android devices 5/10/15W.
The iPhone can be charged in lying down, or in landscape mode or portrait with the stand convertible, that does not interfere with the gestures of drag. Account with hinges of high quality, to colour to the iPhone at the most comfortable angle.
With the cable-wrap USB-C can connect the hub to computer.
The chargers Qi wireless generate high temperatures that can cause damage to the iPhone. This new hub works at low temperature, achieving a load to 7.5 W with temperatures less than 36.5 ° C. HyperDrive uses components with a high level of energy efficiency, designed to ensure that the device operates at a low temperature.
The chargers Qi wireless also emit frequencies that can interfere with Touch, or Face ID. HyperDrive uses a fixed frequency designed by Apple that does not interfere with these functions.
When using a USB input-C instead of DC, HyperDrive is the only charger wireless iPhone that you can update its firmware, offering support for new features.
the HyperDrive is being financed through a campaign with kickstarter. For the Early Bird discount of 50%, the unit price is $ 79, and there are also packages for 2, 3, 5, and 10 devices. The final sale price will be about 159$ . The campaign on Kickstarter began on the 15th of January, and it is expected that the first deliveries were made in April of this year.
New charger HyperDrive USB-C +7.5 W Qi Wireless
Source: english
January 18, 2018