The success of Blizzard continues to reap new fans.
Blizzard has announced that its successful action game Overwatch has broken a new brand to overcome the 35 million registered users.
The game began with 10 million users during its beta in June of 2016. In march, more than 25 million players -a figure achieved in less than a year, since it was launched in may – and last April, it reached 30 million.
What a bunch of misfits and freaks we got here—we love it!

Thanks for teaming up with us, heroes. 🙌 pic.twitter.com/aBENKWS17f— Overwatch (@PlayOverwatch) October 16, 2017
Now the game has launched the Halloween event, with new modes and appearances, in total more than 50 items to get up to the 1st of November.
The universe of Overwatch
Video: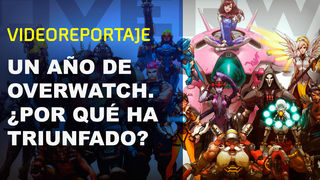 Overwatch is already available on PC and consoles. It is a multiplayer first-person shooter in which users are organized in two teams. At your disposal, come with an array of heroes with their own abilities and characteristics.
From Vandal we put a analysis that you can read in the following link, as well as a guide that I also invite you to consult.
Overwatch reaches 35 million players
Source: english
October 16, 2017