Pokémon Sword and Shield, next to the console of Nintendo, they still at the top of the sales charts with no competitors in sight.
As every week, Famitsu, the prestigious japanese magazine, has offered the data of the consoles best-selling, as well as the video games most commercially successful in the same country during the last seven days in Japan. And as has become customary over the last few months, the territory remains under the baton of two names: Pokémon and Nintendo. In the realm of games, Pokémon Sword and Shield sets 231.578 new units, demonstrating the pull of the series of GAME FREAK. For his part, Nintendo Switch back to demonstrate your strength in sales with 236.625 units.
The games sold in Japan from 9 to 15 December 2019
Yes, the first post is indisputable. The new generation of Pokémon for Nintendo Switch, Pokémon Shield and Sword, are far above their closest competitors. The delivery brings us to Galar and capture new Pokémon have been able to sell 231.578 new units this week, making a stud that is now the two and a half million copies since its launch last November 15. In a list dominated by the software for Nintendo Switch, the best and only premiere of the week highlight belongs to Project Sakura Wars for the PlayStation 4, which debuts in the machine Sony 140.376 physical copies in the second post.
Video: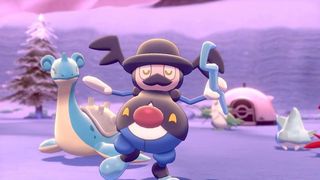 Top 10 software
1. [NSW] Pokemon Sword / Shield (The Pokemon Company, 11/15/19) – 231,578 (2,456,459)
2. [PS4] Project Sakura Wars (Limited Edition Included) (Sega, 12/12/19) – 140,376 (New)
3. [NSW] Ring Fit Adventure (Nintendo, 10/18/19) – 57,746 (386,257)
4. [NSW] Luigi's Mansion 3 (Nintendo, 10/31/19) – 48,449 (367,746)
5. [NSW] Mario & Sonic at the Tokyo 2020 Olympic Games (Sega, 11/01/19) – 26,677 (103,857)
6. [NSW] Minecraft: Nintendo Switch Edition (Bundle Version Included) (Microsoft, 06/21/18) – 25,036 (1,063,127)
7. [NSW] Mario Kart 8 Deluxe (Nintendo, 04/28/17) – 22,376 (2,580,291)
8. [NSW] Super Smash Bros. Ultimate (Nintendo, 12/07/18) – 21,135 (3,383,582)
9. [NSW] Tsuri Spirits Nintendo Switch Version (Bandai Namco, 07/25/19) – 20,932 (264,845)
10. [NSW] Super Mario Maker 2 (Nintendo, 06/28/19) – 19,466 (739,734)
The console sold in Japan from 9 to 15 December 2019
Few changes. In Japan, Nintendo Switch continues to show its power business, registering 236.625 new units in the last seven days. The console is located far away from its most direct competitor, the PlayStation 4, which between its two models sum a 11.216 sales. In the third place, we caught up with the veteran a portable Nintendo 3DS, which registers 3694 consoles sold between all the members of their extended family. As happened last week, the top closes Microsoft with their Xbox One -in its two models-adding 522 consoles your total amount of units, and portable PS Vita, which experience a noticeable improvement selling 51 units, refusing to disappear.
Top 5 hardware
1. Nintendo Switch – 236.625 (Switch – 155.516, Switch Lite – 81.109)
2. PlayStation 4 – 11.216 (PlayStation 4 – 7368, PlayStation 4 Pro – 3848)
3. Nintendo 3DS – 3694 (New 2DS XL (including 2DS) – 3549, New 3DS XL – 145)
4. Xbox One – 522 (Xbox One S – 345, Xbox One X – 177)
5. PS Vita – 51
Pokémon and Switch keep it comfortably in the lead of the weekly sales in Japan
Source: english
December 18, 2019