Vigil, Zofia, Lion or Buck, among many others, are the ones that Ubisoft gives away to users; players who already have all the operators receive a outfit christmas to Montagne.
Christmas has also come to Tom Clancy's Rainbow Six Siege. Ubisoft is giving away to players, operators of the title, covering from Year 1 until Year 4. In this way, all users who log on and check out the menu packs, they may be made with the Holiday 2019 Pack. This will allow them to be, random, with an operator who had not.
🎄 HAPPY HOLIDAYS from the Rainbow Six Siege team!
To thank you all for such a great year, we've left you a sweet little treat. ❄

🎁 Find your surprise in the Holiday 2019 Pack in the Pack section from the Home screen! pic.twitter.com/tSNhoyidmD— Rainbow Six Siege (@Rainbow6Game) December 23, 2019
Operators for Christmas
The operators that we can get are those that are included in the expansions that range from the year 1 until Year 4. If well operators that are part of the base game not included in this christmas gift, then we leave the list of names of the characters, yes we can conseguir:
Buck
Frost
Blackbeard
Valkyrie
Capitão
Caveira
Hibana
Echo
Jackal
Mira
Ying
Lesion
Dokkaebi
Vigil
Zofia
Lion
Finka
Maestro
Alibi
Maverick
Choque
Nomad
Kaid
Gridlock
Mozzie
Nokk
Warden
Amaru
Goyo
Kali
Wamai
For those players that have all the operators, also awaits a gift in the Rainbow Six Siege this Christmas: if you already have all the template operators, you can get a outfit absolutely holiday to Montagne. You can check it out below and feel the Christmas is strong in him: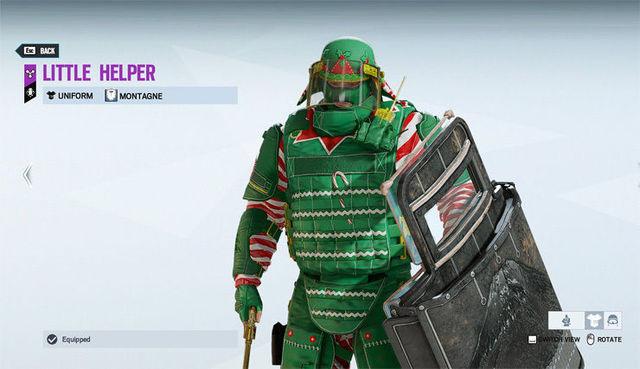 The future of Rainbow Six Siege
Meanwhile, Ubisoft has already raised your New Year's resolutions to Rainbow Six Siege: the company has announced that it will implement changes in the development of the game. A new development team makes its way through the title, with Leroy Athanasshoff leading to these new workers. "The new development team is great. It is formed by veterans that have been working on Rainbow Six Siege from long ago," said Alexandre Remy, brand manager.
remember that Rainbow Six Siege you can enjoy both on PC and on PS4 and Xbox One. The next year, in addition, you will be welcomed to Tom Clancy's Rainbow Six Quarantine, a title that will take us to face up against waves of zombies.
Rainbow Six Siege gives all the players a operator free for Christmas
Source: english
December 26, 2019