If you want to try before anyone else the new functions the application of Google Android no longer just be targeted to your testing program (Google Beta), but now you'll also have to manually activate their upcoming new features through its new section.
Google opens the section on Labs so that we can see easily what are the new features that are in development and we can try to be able to give our opinion. So anyone will be able to decide if you want to have enabled this experimental feature or not on your device.
Google Labs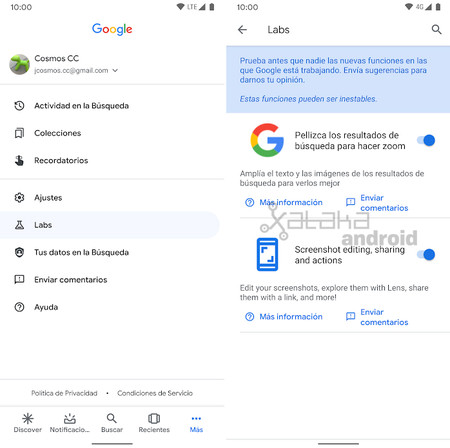 This new section is located in Google > More > Labs. There are currently two features in development and ready to be activated: zoom in the search results, and the renewed tool "Edit and share screenshots".
Google Labs allows us to for each new function see more information to know what it is and how it works this new feature and a section for send feedback and thus to evaluate that function.
With this innovation, Google can know what the us seems to each of their developments by allowing us to value each function separately of fast and easy way. Until now you had to leave a review in the Play Store to give our opinion, and that is something that very few people did it with the functions experimental Google Beta.
Google
–
The news The application Google unveils 'Labs': your new section to test its upcoming functions was originally published in Xataka Android by Cosmos .

Xataka Android
The application Google unveils 'Labs': your new section to test its upcoming functions
Source: english
January 13, 2020