20MINUTES
The last example of copy of Whatsapp fraudulent has been downloaded up to 100,000 times.
The appearance in Google Play is almost the same and just repair it in some detail to discover that it is false.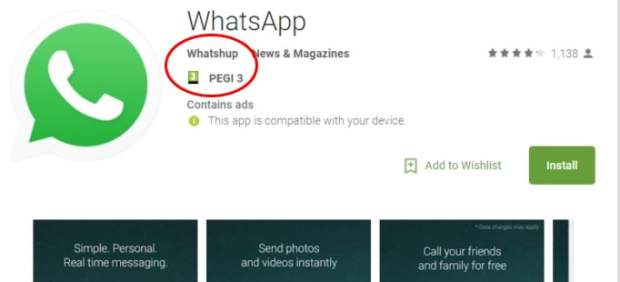 at a first glance it seems that we are in the app Whatsapp to download in Google Play, when in reality it is no more than a app fraudulent. Has happened recently with one that has been downloaded up to 100,000 times.
Simply set a bit in some details, as indicated from Andro4All, to realize that we are not faced with the official mobile app. It may seem like a no-brainer, but in this case, the criminals try to attack the less experienced users, that do not repair in this type of data by simple ignorance.
Up to 100,000 users have downloaded the latest app example of false Whatsapp. To get started, simply look for that in the name of the developer puts Whatshup and that, despite the fact that the score of the app is high, there are very few votes out there (just more than a thousand). With this it would be enough to know that we are faced with a fraud, although it is true that there are many who do not think this type of information, basic, before you download anything to your mobile phone.
This type of applications hide dangers for those who downloaded. Among the permissions that they request many hidden charge of collecting excessive information, as the full access to your network and complete collection of your data on the internet. Tend to disappear quickly from Google Play, but as soon disappears already have posted something similar, something that is leaving evidence of the filtering of Google to allow the access of apps on its official store and that is leading to countless complaints of users and developers.
The dangers of the fake Whatsapp that are hidden on Google Play
Source: english
June 12, 2017