It is about some adventures of terror that became very well known in PC thanks to the broadcasts on 'streaming' thanks to its scares.
Clickteam has announced that Five Nights at Freddy's, Five Nights at Freddy's 2, Five Nights at Freddy's 3 and Five Nights at Freddy s 4 will be available on the digital distribution of Nintendo Switch, Xbox One and PlayStation 4 tomorrow, the 29 of November with a price of 6,99 € each. In the case of the Sony console the developer ensures that it is waiting for the final confirmation, but that should be your date. It has presented a trailer of these games.
Video: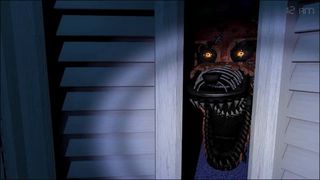 The series Five Nights at Freddy's was made very popular on PC a few years ago thanks to the explosion of the streamers, because the terror games work well to interact with viewers thanks to its scares and exaggerated reactions. These titles are adventures point-and-click where we walk through various scenarios in a poorly lit where we find some of the animatronics or robots placed to surprise, but then develop into something more sinister.
The story of Five Nights at Freddy's begins in Freddy Fazbear"s Pizza, and in its sequel we are back to trying to solve the problems of these animatronics, who have received new functions. The third game takes place 30 years after, but the owners of Fazbear's Fright: The Horror Attraction are ready to revive the legend and make the experience as authentic as possible. In the fourth game, once more we have to defend Freddy Fazbear, Chica, Bonnie, Foxy, and other things that lurk in the shadows. We have only a flashlight to protect us, and our sense of hearing to detect any thing that is approaching.
Scares in virtual reality
The series also has given its leap into virtual reality with Five Nights At Freddy s VR: Help Wanted for PS4 and PC, the os count "if you don't like this type of terror, nor will you come near to him. It is not a survival horror, traditional, or anything like that, it is a kind of puzzle game with a strong component of horror, whose goal is not to pretend fear as in Silent Hill, but to give you scares".
The four Five Nights at Freddy's come to consoles on the 29th of November
Source: english
November 28, 2019