Calls to improve accessibility to those who use wheelchairs.
A video that has the game Super Mario Bros. as a reference for sensitize public about the problems of lack of accessibility for the wheelchair, especially for those who use wheelchairs, has become viral.
This video was published in YouTube and you can see under these lines. Debuted on the popular video system on 28 December and since then has already added nearly 250,000 views .
We are told the story of how the Italian plumber strikes a typical green pipes and, after being picked up by an ambulance, when the game resumes Super Mario appears in a wheelchair.
While attempts continue cons or road , platforms, enemies and other obstacles have been impossible for him to move. Then go into action Luigi, who will build a series of ramps and platforms to address the barriers.
The video closes with the "are no longer 80. Allows access to all the world " and calls, with a final accident Mario, action is taken" and ".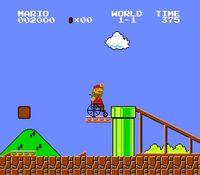 They use Super Mario Bros. for a viral video about architectural barriers
Source: english
January 9, 2016