. Now available in stores
Ubisoft has announced that the physical version of Tetris Ultimate , the latest installment to date of this legendary puzzle game series, is already available in Spanish shops.
"Tetris has always been a popular choice among fans of portable gaming systems and entertainment . We are excited to see that the universe Ultimate Tetris continues to grow with its physical version for PlayStation Vita, "said Maya Rogers, president of Blue Planet Software and exclusive agent of the Tetris brand.
Ultimate Tetris was originally launched in late 2014 Nintendo 3DS, PlayStation 4 and Xbox One , and last summer came in digital format to PS Vita, while in December did the same on PC.
As in the rest of deliveries we find ourselves with a set of puzzles where you have to line up pieces differently to disappear while avoiding they reach the top of the screen and get multiple points.
includes nine game modes for up to four players: Battle Final Battle, Marathon, Endless, Ultra, Sprint, is over, Landslide and Enchantment
<. b> Video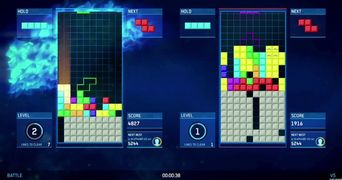 Ultimate Tetris physical version debuts PS Vita
Source: english
January 28, 2016