Sony announces PlayStation Experience, a new exhibition dedicated to their games and consoles
will be held on 6 and 7 December. Sony has announced PlayStation Experience , a new event that the company is preparing for the next December 6 in Las Vegas, Nevada.
This kind of convention will be packed with activities and content related to PlayStation games , so that They made multiple panels with some of the best developers of the company and industry, attendees will be allowed to try many of the titles that are already on the market as well as those who are to come, and buy all kinds of exclusive merchandise.
also have ensured that let us first take a look at what's to come in 2015 , so it is possible that games teach not yet we have seen almost nothing, as Uncharted 4 .
PlayStation Experience last two days, and tickets cost $ 50 , but if you prefer to buy the full pass to attend both days we will get this for $ 90. If you can not attend, Sony has promised to deliver many live videos of what happens there.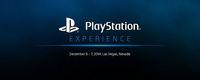 Vandal
(Visited 1 times, 1 visits today)
Sony announces PlayStation Experience, a new exhibition dedicated to their games and consoles