Most recent:
'Crisis on Infinite Earths' will also have the Lois Lane for 'Smallville' Erica Durance joins the crossover Arrowverso
San Sebastian 2019: 'The decision' is a tender celebration of life supported by a great cast
At this point it is evident that Warner is not at all clear what to do with their superheroes. While Marvel hits the box office with the the last film of Thor, has the fans impatient for the arrival of the next release and more or less suited to the critical, Warner just stumble into all the senses with the most important film of the DC Universe, 'Justice League'.
we Already know the story. Warner did not want another 'Batman v Superman', and asked for a movie with more humor and a duration a maximum of two hours. After seeing a first cut of Zack Snyder, the study asked record new scenes. Joss Whedon took the baton (Snyder left for a family issue), and Warner was able to brand new mounting that I wanted after spending $ 300 million. Now we discover that not only altered the vision of Snyder, the study nor respected what Whedon wanted to bring.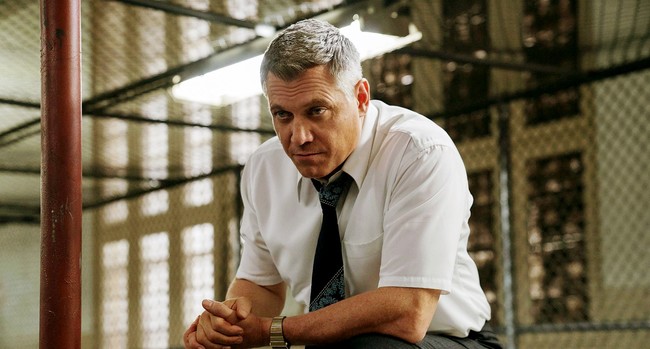 One of the few joys of the film is the cameo of Holt McCallany, an actor that now we will all remember for his role in the extraordinary series 'Mindhunter'. It appears at the beginning of 'Justice League' and has a physical confrontation with Batman, he uses it to catch a parademonio. Whedon filmed this material and McCallany has revealed that the intent is that a sequence fun, which explains the disastrous result:
"I love Joss Whedon. My scene with Batman was originally conceived as a skit. It is as well as written by Joss, and this is how we roll. I thought it came out great, but the studio believed that it would be a mistake to start the movie with a scene with a completely comedic, so that the reeditaron a little.

I was disappointed, but when I got home I found a bottle of my champagne a favorite, and a note from Joss saying, 'By the lost battles. With gratitude, Joss'. I can't tell you how much it meant for me to dedicate time to write me. Joss Whedon has a lot of class. Enmarqué the letter.

it Was fun to fight against Batman, despite losing. In some shots, my character gets to return a few blows, but without success. I have my own style of fighting based on techniques that I have learned during many years of boxing and working in the film, and I was able to use it here. In this case, it is a fight against a superhero, so it's more hard. Batman can do a lot of things that other guys can't. It was a great experience, and a fun scene to shoot. It was very easy to work with Ben Affleck, what we decided in only a few shots.
it Is a pity that you can't see what they did. In its place we have a scene of action poorly mounted (as chaotic as almost everything else) and pointless, where the type to which Batman is beating and supposedly you want to catch, not only does not flee when he had the opportunity, but it also allows the luxury of making a comment about the absence of Superman. Comment that Batman get as if you were talking with someone who knows. A absolute nonsense.
And what's more mind-boggling: hire Whedon to provide humor, but then transformed one of his sequences to look like shot by Snyder.
In Espinof | Everything that was removed from the assembly of the 'League of Justice' Zack Snyder, and what he added Joss Whedon
we Also recommend
The evidence that the reshoots of 'Justice League' is marked, and much
Space Economy: when your business is not on the street or online, but in the geostationary orbit
'Justice League': a direct stab to the heart for fans of the Movie Universe DC
–
The news Warner nor respected what Joss Whedon wanted to bring to 'Justice League' was originally published in Espinof by Juan Luis Caviaro .

Espinof
Warner also respected what Joss Whedon wanted to bring to 'Justice League'
Source: www.vayatele.com
November 25, 2017
Next
Random post