Facebook is still working on converting the groups of WhatsApp in a communication channel increasingly effective and attractive both for businesses and for families and…
Facebook is still working on converting the groups of WhatsApp in a communication channel increasingly effective and attractive both for businesses and for families and large groups of individuals. Especially taking into account that do not yet have the capacity to offer the number of users that allow the supergrupos of Telegram, with the possibility of providing the broadcast messages up to 100,000 people at once.
Recently we were able to check as it changed the management of the permissions for groups in WhatsApp, now giving more options on who can edit the name, and icon, who is an administrator of the group, and who ceases to be such, as well as the information that is displayed in the description of the same. In your official blog, also, just to present more interesting new features.
WhatsApp defines these developments as specially targeted at these support groups, using examples such as "new parents" who use the channel to share experiences and advice, "students of the same class," passing notes, news and exercises through the groups of WhatsApp, to finish off talking about "community leaders" who use the messaging app to coordinate in case of emergencies such as a natural disaster. It is evident that WhatsApp wants to be most relevant as a tool for communication groups.
what's New in groups of WhatsApp
To allow a group of WhatsApp has also become a channel and increase their communicative efficiency it was necessary to give the channel a description beyond the name of the group, the icon and the state. For this reason, WhatsApp announces that it entered the space Description of group that consists of a summary text that will appear below the group information.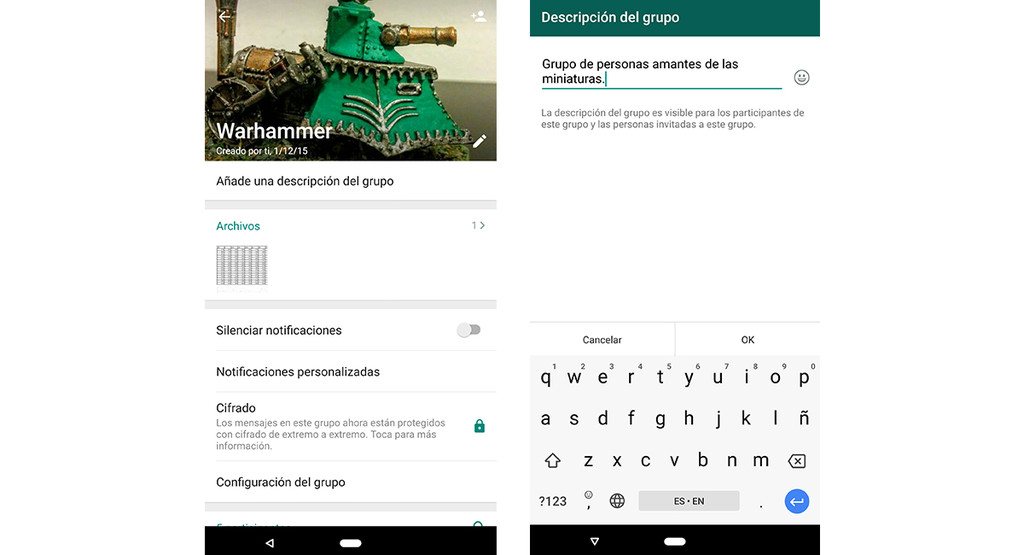 The new space group Description allows you to write a text long enough and only visible to members of the group and those that have been invited. For this reason it is a good place to instructions, reminders to participants, and the rules of use channel.
The groups now include the small button "@" where you can check the honorable mentions that the rest of the members you have done while you've been gone -or in those periods of time in which silenced a group particularly active.
likewise, WhatsApp has introduced a new search button to find an entrant in a specific group, something complex, especially in very large groups.
finally, it has been announced "more protection" which will prevent that you can add repeatedly to a group that you've you've opted out recently. We all know the case of someone trying to flee a group, and, repeatedly, returns him to get inside. That will not happen again.
as we discussed in a previous article, another of the novelties that explains WhatsApp on its official blog is that administrators now have more control over the groups. In this way, they can decide who can modify descriptions of, titles and icons, choosing who is or ceases to be a manager and, in their turn, the original creators of a group as cannot be deleted by other administrators.
Availability of the new functions in WhatsApp
WhatsApp has announced that these new developments will come both in its version for Android as on the iOS support and we have already been able to verify that it has been so for quite a few users on different platforms. If you have not yet received the update check in the apps store if you downloaded already the latest version.
In Xataka Android | WhatsApp vs Telegram in 2018: what is the best messaging app?
–
The news WhatsApp wants to be more relevant to the groups: these are their latest news was originally published in Xataka Android by Toni Noguera .

Xataka Android
WhatsApp wants to be more relevant to the groups: these are their latest news
Source: www.xatacandroid.com
May 15, 2018
Next
Random post