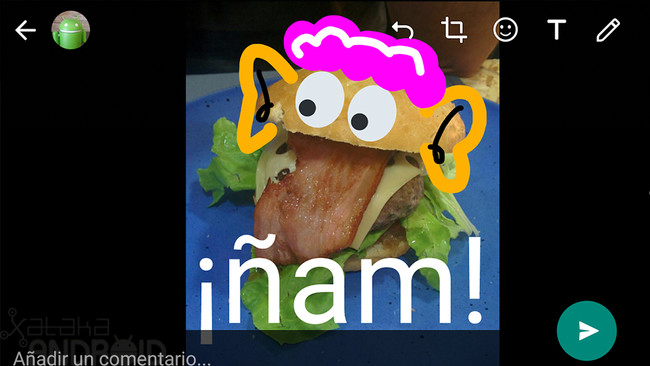 Come new features to WhatsApp to Android. During the next few days the app will start to be updated on Google Play to add to all over the world four new that until now were only available in your development version.
Of these four news there are three new features very important, and certainly any begin to use it practically every day. The news of WhatsApp for Android are the following:
Scribbles, texts and emojis on pictures and videos
get new editing tools. Now when you share a photo or a video we can draw to add doodles, text, emojis or stickers. You can choose the thickness of the brush, or font type by dragging your finger towards the left of the color bar.
Mention
Following in the footsteps of Telegram, now in WhatsApp for Android you can mention someone in the group to receive a notification even if that person has muted that group. To mention a contact we have to write @ and their name.
invitation Links to groups
The group administrators can send invitation links to the people that receive the link to join the group. The administradares just have to go to the group information and touch Add participants > Invite to group link.
Emojis large
Now the size of the emojis iran from largest to smallest depending on the number of emojis sent without text.
If we send a single emoji will appear in big if you send two emojis will appear in medium-sized or big, if we send three emojis its size will be medium, and if we send four or more emojis your size will be normal.
On Google play | WhatsApp
Xataka Android | How to format text in WhatsApp: bold, italic, strikethrough, and change font
–
The news The 4 new WhatsApp: mentions, draw on photos and videos, emojis large and more was originally published in Xataka Android by Cosmos .

Xataka Android
4 news from WhatsApp: mentions, draw on photos and videos, emojis and larger
Source: english
October 4, 2016