One of the what's new Android 10 most important and most awaited is the dark theme. After years of waiting, finally, the Google mobile operating system adds full support to this very defendant way.
The dark theme of Android 10 is activated from the quick settings when the device enters into the power saving mode. There is No way to automatically turn on dark theme officially but yes we can gain this functionality thanks to a third-party application.
Auto Dark Theme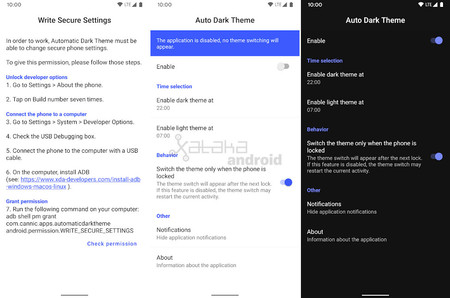 Automatic Dark Theme for Android 10 is an application that allows us to schedule the activation and deactivation of the subject auto our Android device 10, but prior to use the application will have to provide a special permission using the ABS.
Nothing more to install the application we need to to connect our mobile to the computer with ADB, and with USB debugging enabled, run the following command in the terminal or command window of your PC:
> adb shell pm grant com.cannic.apps.automaticdarktheme android.permission.WRITESECURESETTINGS
once this command has run, you have allowed the application to be able to modify the setting of the dark theme of our device, so that you can activate and disable it automatically.
The application Auto Dark Theme allows us to schedule a start time and an end time to activate the dark theme. By default it will activate the dark theme when the device is locked, so that it does not change suddenly while you're using any app, because that could mean the restart of any activity and lose what you were doing.
Automatic Dark Theme for Android 10
Via | XDA Developers
we Also recommend
Essential addition to Google and updates the Essential Phone to Android 10 the day of launch
So it would be the new theme selector of the Pixel with Android 10
How to install Android 10 in a mobile compatible
–
The news Auto Dark Theme: an application that allows you to automatically activate the dark theme of Android 10 was originally published in Xataka Android by Cosmos .

Xataka Android
Auto Dark Theme: an application that allows you to automatically activate the dark theme of Android 10
Source: english
September 13, 2019