HECTOR MARTINEZ PLAINS
At 46 years, the lady of the theater that has enchanted the American film industry, boasts two Oscars.
In 2016 could look out the back nominations for her role in 'Carol'.
Mother large family, the Australian actress is defined demanding and committed.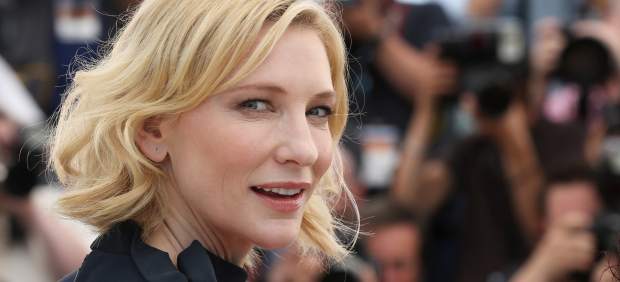 extreme naturalness and elegance seem contradictory terms, but in the short distances, Cate Blanchett ( one born May 14, 1969 ) confirms that theirs is more than telegenia . It is true that the camera unashamedly pamper its cold beauty; and so it is their presence does not lose any magnetism when lacks the usual artifices of cinema. mental acuity , in contrast to his skin, is volcanic.
The Australian is primarily a lady of the theater , he found almost without looking with which required the big screen again and again, even though she had always done the opposite to what I had to make it in Hollywood. chose the most complicated roles (such as Queen Elizabeth I or heroine Charlotte Gray) before agreeing to appear in The Lord of the Rings , he was never afraid to express their opinions or make your own beats.
At the end of the last decade, Blanchett industry was under his feet when he did an Oscar doing something as difficult as it was to emulate a celluloid legend: none other than Katharine Hepburn in The Aviator . His presence was usual in the most ambitious and that was when he took a far less risky decision.
For years left the film almost completely to run the company the Sydney Theatre with her husband, Andrew Upton . He did in that age group in the rest of actresses struggling to survive in a business that considers older too soon. When I wanted to return to the big screen, and overcome the barrier of forty without being in first media line for some time, I knew he risked for the phone will not ring.
Fortunately, a man like her so indomitable in accepting the rules of the game if you made a call. It was Woody Allen , who had thought of her to star in Blue Jasmine. A few months later, the actress resumed his film career with a new statue under his arm thanks to the New York director.
Now, although they have just spent a couple of years, the mother of a large family and sounds among the favorites to return to take the prize home , something very few actresses have achieved over the history of these awards. I would get for its exquisite incarnation of Carol , a sophisticated woman like you could be in the fifties and at the same time suffocated by patriarchal idiosyncrasy of the time.
It is the fighter of the title of the new film by Todd Haynes, in which the love story between a married woman and a young saleswoman told. catalog of strong females is much more nuanced than it may seem, as shown in journalist race that embody just really , with Robert Redford.
In recent times, many actresses are rebelling against the role of women in the film industry. . Since the wage questions of those subject on the red carpet difference
It must be said clearly: women are much needed in this industry, as in all. not incorporate women into creative discussion is a way of thinking that I find very poor, because it makes the conversation without monochromatic shades. Anyway, do not think denigrate men is a quality that we should cultivate women to defend our rights.
It seems that you have power of choice in your career, something very difficult for women in film.
When I left drama school, did not think to dedicate to the cinema. I like to dream that would have a long career in the theater, so every time I made a movie or make a new one is a little surprise that my past was not expected. There came a moment when I decided to leave the theater by choice to focus entirely on my theater company. Many told me I was not going to return. I did not care. I thought, "Let's see what happens." The more women to be proactive and dynamic in this industry, less surprising is that we do not become invisible from a certain age.
Are you still defending force that belief that theater actors are part the aristocracy of interpretation?
I must say that the theater has made me an actress, I'm sure of it. Anyway, the new generations that no longer occurs. There are even examples in previous generations, such as Judi Dench, who move in every way like a fish in water and are always excellent.
With so many projects going on, would Where does family life?
I do not spend much time in Los Angeles as people may imagine. My children are in school in Sydney (Australia), I love Berlin and I like Iceland, I guess its volcanic nature strikes me, so I like New Zealand as well. There are many places in the world in which love to live, but my husband Andrew (Upton) and I have just adopted a child and we have four children, it's like having a small theater company. All submit to a vote. Until now Andrew had a fixed place in the Sydney Theatre Company, but recently left his job there and beat us are thinking of a sabbatical. We like to travel, but we have to balance the classes of children.
Do you consider very demanding?
I feel a sense of vertigo every time I face a new role. I know it sounds cliche, but true. It happens because I have a developed sense of duty, which does not really bother me. Every time I start filming, assails me fear that the film in question will be an absolute nonsense, especially if it's a gamble.
All actors have to change their accent once throughout his career, but in his case, to be an Australian working in US or British productions, you get to do all the time.
always admired actors when we perfect an accent that is not ours to make up any of our papers. The truth is that this is something we always do in one way or another. When you get into the skin of a different person, you run other body language that is not yours. It's like learning a foreign language. Moreover, I find it more complicated to find the right tone of voice that expresses the character's psychology that the accent itself.
Beyond being carried out by two women, Carol is a great love story. Do you agree with the film becomes an icon for the rights of the homosexual community
have to see to what extent becomes an icon; It will be something interesting to discover. But the main reason for making this film was that it was a beautiful story. Todd Haynes has branded him as the "king of gay cinema", but has made a film that mainly speaks of love and that has been our guide when working on the film.
It is true that the gay community is represented much more than a few years ago.
If the film had been shot 15 or 20 years ago, the dialogue that has been established around it would be very different. At this time the rights and diversity in the gay community have changed. Since it was released Brokeback Mountain a decade ago, everything has changed in Hollywood. We have approached the problems of this community from all kinds of angles. I do not think a single movie has acted to change the lesbian reality, not even Life of Adele ; you need a complete film movement to work for change.
Anyway, being gay remains controversial in Hollywood.
The proof it is that we are talking that now. Probably more than controversial, what happens is that an actor to the public is exposed much more than a banker or a bookcase. I do not think that it is a matter of discrimination, but no actor wants to be typecast and yes there may be a conflict. Your gender, your sexuality, your race … can close your doors in this business.
recently could see it in The truth.
There are two things I was passionate about this project. For one, the true story of Mary Mapes, a television journalist who destroyed his career when he tried to expose a scandal over George W. Bush months before the presidential elections in 2004. It is important that the viewer knows these facts and reflect on how the media inform us.
What about the other?
The other is Robert Redford! It was a dream come Realize. I know my luck because it is very demanding and agrees to work in very few films. It is a very committed and very curious to what happens in the world man.
Did you know Mary Mapes to build your character?
Yes. She worked a lot with me and it was all heart. For years no journalist serves as informative. I found Mary is very different from the past, the feisty and vivacious woman on the script and I found researching his previous work.
Cine
Cate Blanchett: "Feminism should not denigrate men"
Source: english
December 29, 2015