The lawyers seek to rearrange the cases on the basis of the law.
At least five of the major claims initiated against Fortnite and Epic Games on the grounds of the subtraction or copy of dances would be suspended or paralyzed, while the respective attorneys for the plaintiffs rearm and rebuild cases. This fact comes led by the change of the legislation from the copyright office american, US Copyright Office.
Changes in the law, and a new horizon
The five major lawsuits brought against Epic Games for illegal appropriation of dance, choreography, or gestures in the courts, belonging to Alfonso Ribeiro (The prince of Bel-Air), Russell "Backpack Kid" Horning, "Orange Shirt Kid" and rapper Terrence "2 Milly" Ferguson and James "BlocBoyJB" Baker, would stand by. Each and every one of them included that Epic Games would have been appropriate of their dances or gestures personal, but at the same time, they would have decided to park their claims while the court reviews the process with which to face this type of cases related to the copyright.
Video: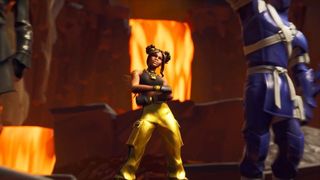 The signature Pierce Bainbridge, who represents several of the defendants, it would have highlighted they would be reassembling the case because the Supreme Court of the united States would claim now to receive a direct response from the US Copyright Office before tackling any case that has as central axis the rights of the author. Due to this change of legislation the lawyers, who have drafted their claims prior, they would have to repeat the entire litigation process. "For better comply with the law such as is in view of the decision of the Supreme Court, our customers will reject their demands of current and re-submit," explained a spokesman.
To better comply with the law as it is in view of the decision of the Supreme Court, our customers rejected their demands of current and re-submit
it Seems that the case goes to long. As I mentioned in your day, the main element that grasps the defense of Epic Games is not there is a case law established in the U.S. in relation to copyright choreography, since the dances and other artistic performances are of free expression and possession, without being limited to the copyright of any agency, corporation, company or subject to legal.
Next to this is a demand related with the dances, Epic Games is also fighting in the courts against a group of users who believe that the boxes of loot used unfair tactics and misleading the players.
Claims for appropriation of contra dances Fortnite are paralyzed
Source: english
March 11, 2019