The promotion, limited to the united States, will reward the players more solidarity in the TwitchCon in San Diego.
Bandai Namco and the Red Cross have joined forces for a curious promotion that has a background quite commendable. If we decide to go to the TwitchCon in San Diego (united States) the next Friday, September 27th, we will be able to get a copy of Code Vein and a free kit of the game if we donate blood.
The Lost aren't the only ones who need your blood! On September 27th, celebrate the #CODEVEIN launch by donating blood to those in need.

Follow the link to pre-register and learn more about our Blood Drive during TwitchCon weekend: https://t.co/MvAkM5H5NZ pic.twitter.com/h7rKIGaeED— Bandai Namco US (@BandaiNamcoUS) September 22, 2019
Call Code Vein Blood Bank, the promotion of solidarity has a relationship with the own argument of the game, as in Code Vein we meet a future in which the planet has been destroyed because of a geological anomaly catastrophic. The Revenants are now those who populate the face of the earth, beings that have sacrificed their memories in exchange for maintaining their humanity based on eating blood. To be able to access the promo -if you live in the united States, keep it in mind- we have to check here. With each donation, " explains Red Cross, not only will give away a copy of the game: could save up to three lives.
Video: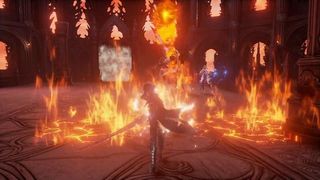 Code Vein will debut on PC, PS4 and Xbox One on the 27th of September.
Code Vein will give away a copy of the game if we donate our blood
Source: english
September 25, 2019