A source that already leaked ads from Blizzcons past ensures that Blizzard will announce these two games within two weeks. Also has predicted to Overwatch 2.
Blizzcon 2019 is only two weeks and already there are rumors of powerful on what Blizzard, wrapped in controversy for censoring users who protest the events in Hong Kong, will announce at its big event of the year. A few minutes ago I spoke about the possibility that is announced Overwatch 2, and the same source says that the Devil 4 and Devil 2 Remastered will also be announced.
A new game and the remastering of a classic
The source is Metro, a streamer and player semi-professional not too known, but that last year leaked some of the announcements from Blizzcon. This year has thrown the house through the window and ensures that, in addition to Overwatch 2, will be announced Devil 4 and Devil 2 Remastered.
For anyone who cares, devil 4 and devil 2 remastered will also be announced. 🙂 #BlizzCon2019— Subway (@Metro_OW) October 18, 2019
These ads would not be too surprising, as rumors Diablo 4 have been circulating for months (Diablo 3 was released in 2012, some seven years ago), and in fact Blizzard went on to say last year that "tried to bring a little bit of Devil 4 to Blizzcon", given the fact that the game is in progress. At the time he came to the place that Blizzard dropped the announcement of Diablo 4 in the last minute.
Devil Immortal, for the moment, the only official
Despite rumors and expectations, the only Devil official by the time is Devil Immortal, the mobile version as initially criticized that it is expected to debut within a few weeks, and you will have secure presence at Blizzcon.
Video: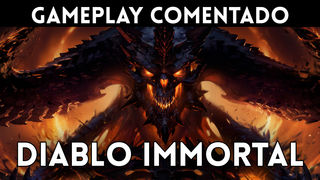 Devil 4 and Devil 2 Remastered may be two of the announcements of the Blizzcon 2019
Source: english
October 19, 2019