EFE
Facebook has launched a fundraising tool for funds directed to non-profit entities in Europe.
The initiative has already had success in the united States.
Other applications of this tool is the possibility of collecting donations during a live broadcast via Facebook Live.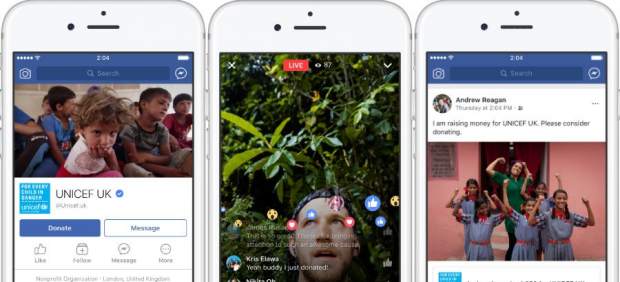 The social network Facebook has announced the launch of a tool for fundraising addressed to non-profit entities in Europe, after the success of a similar initiative in USA, where the social network raised $ 10 million for people affected by the passage of hurricane Harvey.
Practice donations on Facebook via a simple button from "donate" in the pages of the NGO is "a quick and easy way" of raising funds for charitable organizations dedicated to "disaster relief, environment or education," explained Anita Yuen, head of strategic alliances in the field of the social causes of this network.
Yuen has appealed to non-governmental organizations to launch their campaigns through "a space where they can achieve a massive impact globally," and generate "many opportunities for these charities".
The donation button instant, have been assured, not only grants "the power of decision to people who want to offer their support," but that "generates consciousness" among the users about the causes that are of greatest concern at a given time because, to share with their friends information about your favorite cause, encourage more people to "rally around a specific goal".
Another application of this tool is the possibility to collect donations during a live broadcast through Facebook Live. A recent example of this is the charity concert with the Ariana Grande paid tribute to the victims of the terrorist attack in Manchester (United Kingdom), where, thanks to this tool, "were raised over 450,000 dollars."
Among the organisations that are already working with Facebook in this introductory phase of the tool are Caritas Spain, Save the Children España, Movember Uk, UNICEF France, UNICEF Germany and UNICEF Uk.
Facebook launches button from "donate" to the european NGOS
Source: english
September 12, 2017