In October last year reached across the world the accessibility application to control by voice the mobile, but was only available in English, until now. In the latest version of Google Voice Access added support to four new languages.
Google Voice Access is now available in English, French, German, and Italian, with now most users who have some problem to use a touch screen now can also be controlled entirely by your Android device talking from your own language.
Google Voice Access in Spanish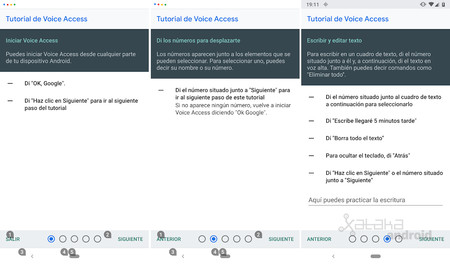 The new accessibility service Google Voice Access allows you to browse through all the interface and apps with our voice. The application lists all the elements of the interface so that we can touch them using the voice.
Voice Access we offer voice commands to make navigation features (for example "back" or "Go to the home screen"), the gestures to interact (for example "click" or "Scroll down"), and dictation and text editing (for example, "Write 'Hello'", "Change the 'coffee' for 'tea'" or "clear all text").
The tutorial and the help of Voice Access allows us to discover all of your voice commands to be able to use the phone without having to touch your screen, perfect for those people who suffer from paralysis, tremors or temporary injuries.
Voice Access
Via | Android Police
recommendation.header
Gasoline, diesel, hybrid… How to succeed with propulsion
Transcription instant and Amplifier of sound, the new apps of Google for people with hearing problems
How to download all your Google+ data before the closing
–
the.news Google Voice Access already supports the Spanish to control by voice your Android mobile originally.published.in by Cosmos .
Google Voice Access already supports the Spanish to control by voice your Android mobile
Source: english
March 11, 2019