Named Pokémon With You, the train offers fans of the saga a unique experience with activities, meetings and thematic several rooms filled with drawings of Pokémon.
Japan will never cease to amaze us. Your passion for Pokémon, an item that represents japanese culture of love for the creatures, nature, and own video games, has led to monsters-of-pocket as a Pikachu to be ambassadors of various events, like the Expo in Osaka in 2025 or The Olympic Games in Tokyo. Beyond the success of the character in the digital environment, which has a special history, Pikachu is a whole attraction in the public transport in one of the regions more japanese affected by the earthquake and tsunami that struck the nation of the Rising Sun in 2011.
Pika, pika, choo, choo!
we Talk about a special train and the only one in the world that, in addition, fulfils a very special function. Funded and designed in collaboration with the service of rail transport in Japan, the train is called Pokémon With You travel between the station Ichinoseki station and Kesennuma, connecting communities and offering routes special to the neighbors and inhabitants of the area. This train, which began its journey in 2012, was thought to provide color and happiness to all those neighbors affected by the earthquake and subsequent tsunami that struck the Tohoku region in march of 2011.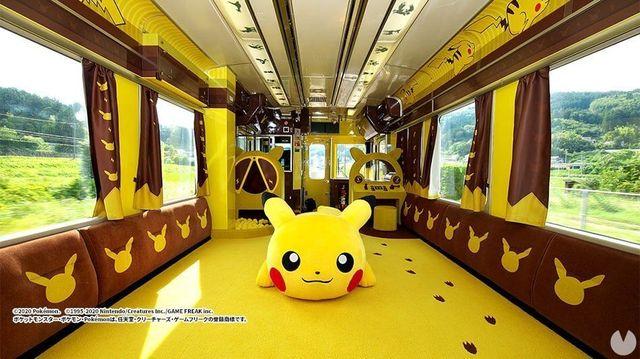 The train was designed to bring joy to the inhabitants of the areas most affected by the tsunami of 2011
The train has been improving its facilities and services, as well as its design, and while it does not operate throughout the year -only at periods very specific, and with good weather-, it is a unique experience in the areas of travel. We talk about a train theme, designed by and for children, with arts of Pikachu, decorated in keeping with the saga of GAME FREAK and with activities and entertainment special, with stuffed animals, dolls, and other elements of the series of video games most successful on the planet. This railroad offers two wagons wide, one named Communication, designed for adults, and with large areas of relaxation, and the other christened as Playroom, with what is required to entertain under the most varied forms.
What do you think?
Pikachu Express: the train japanese theme decorated with the cute Pokémon
Source: english
January 22, 2020