'Nemesis has its own stamp of terror', said the producer Peter Fabiano. In the creation of this new enemy have applied what you learned in Resident Evil 2 Remake.
Resident Evil 3 Remake preparing to sow terror among the players the next April 3, 2020, at which point it will debut both on PC and on PS4 and Xbox One. With this new release, Capcom invites us to return to immerse ourselves in the apocalyptic Raccoon City, where we will incarnate to the agent Jill Valentine in their attempt to escape from this disaster. Following your steps find Nemesis, a creature designed biologically to kill her. This new enemy will be even more scary than Mr. X, the tireless Tyrant who persecuted us in Resident Evil 2 Remake. This is what has advance to the producer Peter Fabiano.
Video: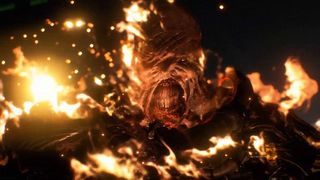 Nemesis has his own label
If something has been recorded in the retina of Resident Evil 2 Remake it is the commanding presence of Mr. X, an enemy that also has been the subject of countless memes and mods by the community of players. However, leaving aside the jokes, was commissioned to add a high dose of stress to our adventure in Raccoon City. Having said this, the Tyrant Mr. X is about to run in the background: because Nemesis is willing to take his place and leave it behind.
In an interview with the GamesRadar, producer of Resident Evil 3 Remake, Peter Fabiano, spoke about how the development of both of these remakes are overlapped, and how what they learned in the creative process of Mr. X was put into practice for Nemesis. "There was some overlap in the development of RE3 and RE2, both used RE Engine," said Fabiano. "To tell you the truth, we have applied some of the elements that we learned when designing the Tyrant from RE2, but Nemesis has its own stamp of terror and is a relentless persecutor that you can use weapons".
"Is a relentless persecutor who can use weapons"
Fabiano continues: "During the development, our director saw what the team did with Tyrant in RE2 last year, and was determined to overcome that with Nemesis. When considering the design and the artificial intelligence of Nemesis, it is true that we were impressed by what the team of RE2 had made with the Tyrant, but we wanted to make sure that Nemesis might sow the afraid to your style. What you will see when you jueguéis".
just As important is the presence of this character in the game, which recently starred in her own trailer, where he showed all his potential. Resident Evil 3 Remake, which has almost completed its development, will be available on April 3, both on PC as on PS4 and Xbox One. In addition, the release of the game will be accompanied by Resident Evil Resistance, a multiplayer asymmetric they will also offer their own story.
Resident Evil 3 Remake: Nemesis will leave her in diapers at Mr. X, according to its creators