While preparing for, integrate the Wizard, the keyboard Google (Gboard) continues to to receive news and updates; in fact, in your latest version, we offer more sizes of keyboard and the option of setting the handwriting. Another Google application that is updated very often is well-being Digital (Digital Wellbeing, recently added mode 'Without distractions'.
it is Precisely these two applications, in addition to Contacts, are the three recipients of the new features being tested by Google, as has been discovered Jane Manchun Wong at the analyze in detail the latest updates. Among the novelties, we have a redesigned interface of the Contacts or the Intelligent key on the Keyboard.
Suggestions of GIFs and breaks manuals apps
If we begin at the popular keyboard application from Google, Gboard, we found a new function of tip-of-GIFs that allow us to easily look at a GIF in function of the excitement or feeling conveyed by the word that we write (for example, Happy-happy-):
Gboard is testing GIF suggestion based on the emotion of the word pic.twitter.com/a6EV5Quqo6

— Jane Manchun Wong (@wongmjane) October 18, 2019
in Addition, Google is also testing in Gboard a function for complete phrases that would work in a very similar way to the Intelligent (Smart Compose) in Gmail. That is to say, uses the machine learning to provide accurate predictions that help us to finish a sentence with a single touch:
We now turn to the application of well-being Digital, where Android 10 has added, as we said before, the function 'Without distractions' (Focus Mode), that allows us to pause the apps, and focus on the job at a certain time. Now, it seems that Google is testing the possibility of interrupting the function and resume it after a period of time: 5, 15, or 30 minutes.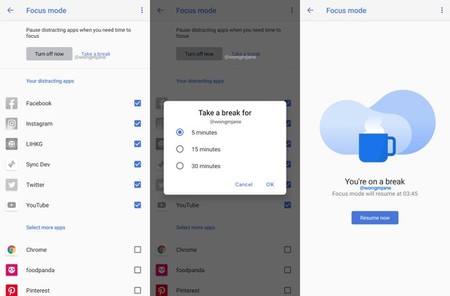 on the other hand, and following with well-being Digital, Google is testing a new button 'Pause' on the timer of each application, so that we could pause manually any application in our device to help us keep ourselves away from distractions.
In relation to the application of Google Contacts, Jane Manchun Wong has discovered a new user interface with shortcuts to contacts that would display the contact information at the bottom of the phone. There is also a new design for the contact form, search history for easy access to the contacts searched recently and the possibility of choosing the specific details of a contact you want to share with another person.
in Addition, Google is testing a new feature that will allow us to search for contacts from messaging services like Telegram, Messenger, etc, yes, without the possibility to modify the contacts stored on the other applications. And finally, for those who have multiple Google accounts on the phone, there would be a function to move any contact from one account to another with just a touch.
To be functions that are still being tested, it is not known if all of them will end up coming finally, Google applications, and if so, when they do it. But if we take into account that some users already have them in their applications, it is likely that since Mountain View does not take much in implemenentarlas to all over the world.
Via | XDA
we Also recommend
well-being digital: controls the time you spend using apps on your Pixel, or Android One with their timers
Google launches Wellness Digital 1.0: available in all of the Google Pixel and Android One with Android 9 Foot
well-being digital: how to activate and configure the sleep Mode of your Pixel, or Android One
–
The news So are the new features that Google is testing in Gboard, Contacts, and well-being Digital was originally published in Xataka Android by Laura Sexton .

Xataka Android
So are the new features that Google is testing in Gboard, Contacts, and well-being Digital
Source: english
October 21, 2019