After the premiere last year bots –here are the 13 best bots-, the messaging service Telegram, today presents the major update on their platform bots is now available on your Android and iOS devices.
Come in games to Telegram with the release of Gaming Platform 1.0, the new gaming platform HTML5 for developers to integrate their web-games in this messaging service through bots.
How to play in Telegram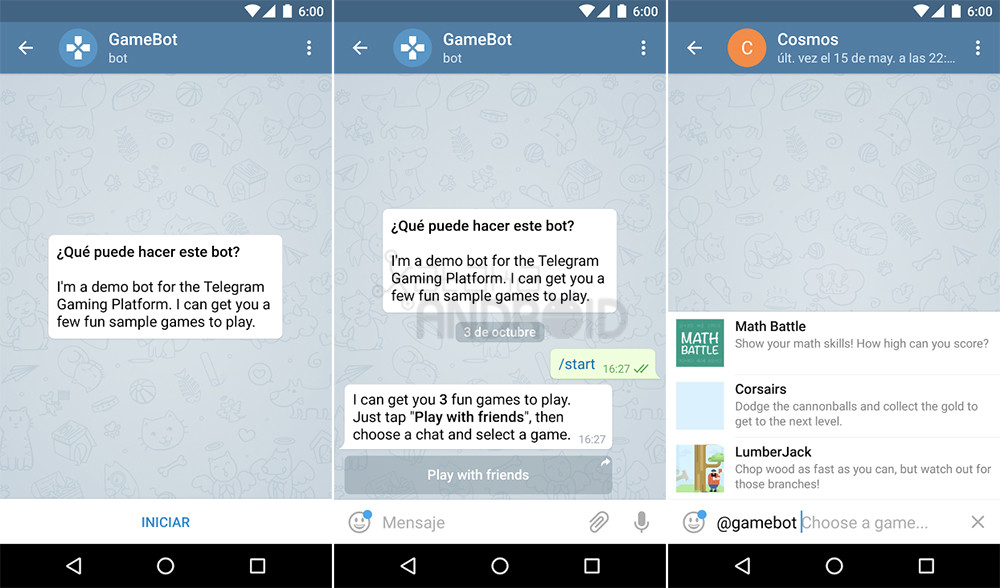 About 30 mini-games are ready to be played from Telegram. The bots @gamebot and @gamee we offer a great selection of games to play alone or against our friends.
To play in Telegram so we only have to run the bots @gamebot or @gamee, either by creating a chat with the bot itself or by mentioning the bot in a conversation. At the mention of a bot in game will appear in the list of available games.
When you create a game in a chat window, we will compete against our friends for the best score to lead the rating table.
All the games are loaded as websites normal, which do not affect the size of the application Telegram, since they really are just that, links to websites to games HTML5.
More information | Telegram
Xataka Android | Google Allo now available for download worldwide through Google Play
–
The news So you can play the new mini-game Telegram was originally published in Xataka Android by Cosmos .

Xataka Android
So you can play the new minigames of Telegram
Source: english
October 3, 2016