Spotify has become the reference for music streaming. Yes, there are more platforms in the market but the best known is the Swedish company. In phones it is by far one of the best options for music and connection either with or without if we have a premium account. Anyone can plant you face? Of course, you have a competitor that is increasingly known and popular.
The NASA and SpaceX, the company Elon Musk s...

It can feel odd, that as a non-profit organi...

The family of Chris Oberth, a developer who ...
His name is NetEase . Wait, do not go looking for this application to Google Play you will not find it there since. This music service comes from China and you must download the apk to install it manually. Many call the Chinese Spotify and the truth is that not without reason to win the title. Is it more attractive to the naked eye? That in order to use and downloading music will not have to pay any fees
.
It is difficult to find a more concise and brief definition NetEase Chinese Spotify. It really is just that as it is. A service of streaming music content with a very large library. Suspiciously large because we can find from great artists to others who are not usual in this type of service, such as the In Rainbows Radiohead.
Do not be confused by the origin of the application. Despite coming from China, it is not far from a malfunctioning crappy service and where navigation is tortuous. There are aspects to improve, it is true, but user experience with NetEase is very good and has nothing to envy of other services with more prestige.
When opening a cover we find where we will recommended and the main sections of this application Content: playlists that we have been creating (registration is required for safekeeping), thematic radios according to genre or artist and finally tables as heard
On top of these options have three others. NetEase (with all that we have described now), music (with content that we have lowered and playlists) and finally community with our friends and people close. A similar social function that has Spotify.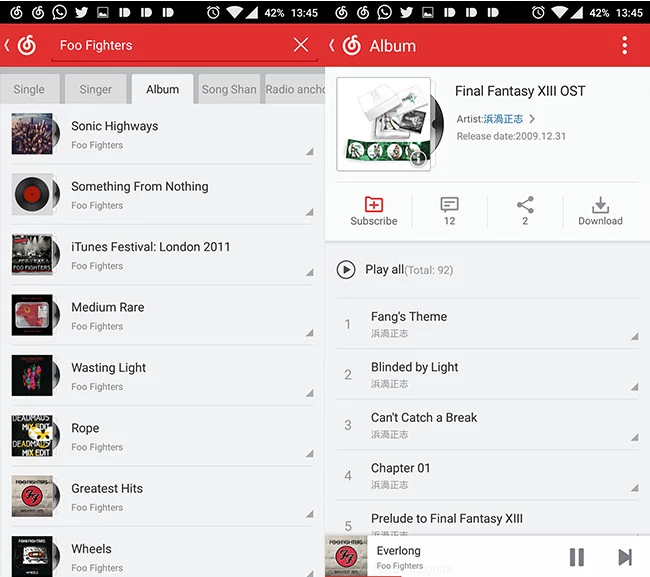 The first thing we will do a search to see what is available catalog because sometimes the cover gives few clues for content that may be of interest , remember that it is oriented to the West Asia and no service. After a few tries, we see that everything we look (known groups, some less and rarities in the form of video game soundtracks) we returned quite complete results.
With every search, as in Spotify, we can sort by artists, albums, or loose threads. With a WiFi powerful connection the application is agile returning results although usually at the beginning (when you have to play the first song) is a bit slow but once past that point when moving from one topic to another is quite fast.
The playback interface Netease is something recharged but very visual and pintona . A level of functionality is just as quick when it comes to access the different commands to pass the subject, raise or lower the volume, etc. Furthermore, we can customize the look of the application topics. Not a very large catalog and some are very rococo but at least we have a choice.
As mentioned, when playing music with the first item always takes a little but once the application is running will not have problems when moving from one song to another. The audio quality is very good, by default it is in automatic mode to suit our connection but we can play at 320.
In addition to playing in streaming, we have the ability to download loose items or albums. Again, we can choose the quality that we want to do with the maximum 320 kbps. Unlike Spotify, the music is not stored as an encrypted cache which can not access, MP3 NetEase keeps everything that can later lead to another site.
Beyond the application has a few added attractions . On the one hand a very usual for music players: sound controls in the notification bar and the unlock screen. In addition it also has a system of integrated desktop (yes, on the main screen of your launcher) where they will appear to the rhythm of music lyrics. They need a little polishing the interface because the look is a bit poor but function works.
After several weeks using NetEase as primary music player (until then was using Gramophone and Spotify) I must say I'm pretty satisfied with the service. It works well, does not consume much battery and has a lot of music often hear daily. The sound quality is good and you can not blame anything for a service which, remember, is free and not have to pay anything to use it.
Installing NetEase in my Android
If you read the article, you will know that NetEase works in China but in the screenshots had a lot of text in English. That the application has reached such a level of popularity in the West have emerged user communities that are devoted to home translation into other languages ​​such as English or Spanish.
Not being an application update and download it for Google Play, we have to install it manually:
If you want the English version, you should follow este XDA thread.
If instead we are interested in Spanish, several users HTC Mania are responsible for translating it.
Normally translations are one or two versions behind the latest in China but the changes are not very big so we do not We lose nothing particularly relevant. It's worth giving a try and discover what you can offer because the service is very powerful and well designed where the only downside is the language. If you come from services such as Spotify and have many playlists (my home for example) to redo discover the library is rather tortuous unable to export and import
-.
News Spotify is unrivaled? NetEase, a service of Chinese music, shows otherwise was originally published at Engadget Android by Juan Carlos Gonzalez .

Engadget Android
¿Spotify is unrivaled? NetEase, a service of Chinese music, shows otherwise