"To taste the colors" is one of the most contested expressions of our language, and becomes a reality when we talk about the design of our mobile devices . And is that the days when a phone was black, and that as much we could hope to find in white, seems to have left behind forever.
And if there is a color that always has reflected the luxury and power in any of the objects on which it is applied, this has been the gold. So it was impossible for manufacturers of mobile pasasen the golden opportunity to dress their mobile , and today we bring you a list of thirteen of the best that you can buy you
. <! - more ->
Samsung Galaxy S6 Edge
Processor Exynos 7 of 14 nm and eight cores, 3GB of RAM, curved screen and glass body with metallic edges . What more can you ask the design of this Edge Galaxy S6, a real top range, to make it irresistible to medium moguls world? Exactly, bathe in gold, a color that both the Edge and the S6 normally have available in its catalog.
HTC One M9
Maybe in the reviews the HTC has come out a little badly, after all not to risk the consequences, but that does not prevent that we are facing another the largest mobile this year, one that boasts as usual metallic finishes. In fact HTC are not satisfied with a finish of a single color, and its flagship has a Double silver and gold ideal for lovers of luxury.
Huawei P8
Huawei know that for authentic high end is not enough to equip a mobile phone with good specifications, also has to get in through the eyes of potential buyers. So the Huawei P8, its latest flagship processor Kirin 930 and 3 GB of RAM , also includes an excellent design gold.
Sony Xperia Z4
Sony Xperia Z4 has not yet left Japan, but the high-end Snapdragon 810 processor and 3GB of RAM already been seen wearing his color range. Although perhaps we should include in this list , because after all we have tried to differentiate from the rest including color copper instead of gold, but once you pass by.
LG G4
The LG G4 wanted to get away from other manufacturers proposing a spectacular vegeta finish leather l. Still, this high-end Snapdragon 808 processor and 3GB of RAM is also included in the collection finished different back covers in which we can find an ever-greedy gold.
Galaxy Note 4
The Note is the other flagships of Samsung , so that the Koreans could not pass up the opportunity to decorate your Galaxy Note 4 gold. Inside you know: Snapdragon 805, 3GB of RAM and a 5.7-inch screen
Huawei Ascend Mate 7
Huawei started last year strong launching a promising phablet Ascend Mate 7 that even today could be considered an option consider . Octacore own processor, a good couple of gigs of RAM and a sober design, of course, did not forget to include a golden variant.
Asus ZenFone 5
Asus not normally been characterized by trying to highlight cantosos colors giving their phones, but not why it has failed to do odd attempt in models like the ZenFone 5 , but we fear that without getting results as slick as the rest of the competition.
LG Spirit
What do you think of the middle range? They do not also entitled to Freixenet bubble dress to stand out from the competition? Of course, LG is one of manufacturers have realized, so this year when he presented his little LG 4.7-inch Spirit, quad-core processor and a gig of RAM did not forget to dress also of gold.
Galaxy S5 Mini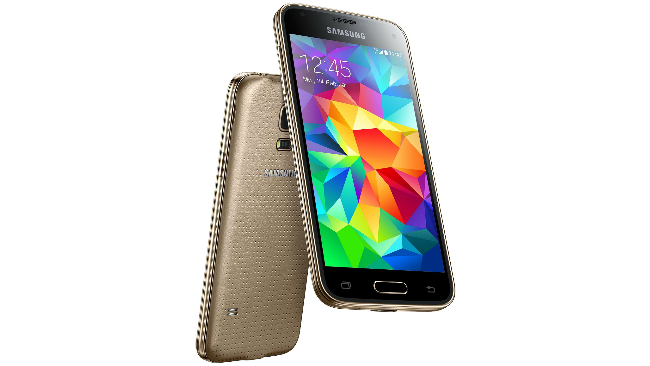 Samsung also could miss the golden party in the midrange, so users Galaxy S5 Mini who they want gold dress your mobile will have the option to do so. Under the hood we remind you that we have a quad core processor Exynos 3470 and 1.5 GB of RAM memory, all in a mobile small screen of 4.5 inches.
HTC One M8s
HTC One M8s is a phone that came almost without anyone expecting it a midrange Snapdragon 615 with 2 GB of RAM would try to stand out from the average range for its 13 megapixel camera. The golden color is hard to find in shops, but we know that in your web appears as an option
Meizu MX4
The Meizu MX4 is one of the most interesting mobile catalog of Chinese manufacturer and offers users of Android, and soon to Ubuntu, excellent phablet processor MT6595 and 3 GB of RAM memory. How could it be otherwise, between its color settings we found one with white front and the gold back.
Wiko Highway Star 4G
And we end with Wiko Highway Star was 4G presentado in Spain just two weeks ago. With it the French company wants to a new step in the evolution of their devices making also noted for their excellent finishes. The phone has an 8-core MediaTek processor, 2GB of RAM and a collection of colored finishes including gold
In Engadget Mobile |. El Galaxy S6 like in Spain, the Edge also: 100,000 reserves (and win the gold)
–
News The 13 best Android phones gold: the gold rush smartphones was originally published in Engadget Android by FM Yubal .

Engadget Android
The 13 best Android phones gold: the gold rush smartphones