there is No doubt that Netflix is worried about their catalogue of films, attracting large directors (the Coens, Cuarón, Scorsese…), but it has not yet managed to generate among the public the confidence that they convey their series. A few days of the 91st edition of Oscar nominations, where platform is one of the winning horses ('Rome'), Netflix let us trailer and poster of one of their new motion picture productions.
'Ambush'end is the English title of 'The Highwaymen', an interesting drama that features two veteran stars such as Kevin Costner and Woody Harrelson, in addition to the hook of having, once more, the story of Bonnie and Clyde, a couple of criminals that continues to generate fascination eight decades later.
The cast is complete with Kathy Bates, John Carroll Lynch, Kim Dickens, Thomas Mann, W. Earl Brown and William Sadler, among others, while the staging is run by John Lee Hancock, director of 'A possible dream' ('The Blind Side', 2009), 'The meeting of Mr. Banks' ('Saving Mr. Banks', 2013) or 'The founder' ('The Founder', 2016). Extremely comfortable and correct that is not going to give us great joys but, with a little luck, you will be able to take advantage of the great cast to deliver a story worth to follow to the end (without intrigue some, of course).
The next march 29, is premiering the film on Netflix. This is the synopsis official: 'Ambush' End portrays the untold story of the legendary detectives to put an end to the story of Bonnie and Clyde. When all the efforts of the FBI and the latest tech forensics are not enough to catch the most notorious criminals of the nation, two former Texas Rangers (Costner and Harrelson) must rely on his instinct and skills of the old school to comply with the objective of…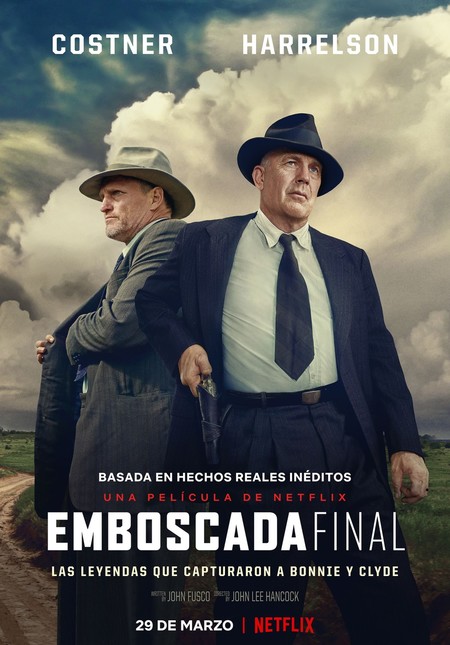 we Also recommend
Charlie Brooker has a message for those who criticize 'Black Mirror Bandersnatch': "To take the ass"
Cream of chocolate and coffee with mascarpone: recipe for love
'The Punisher' launches the brutal trailer end of season 2: Frank Castle is not the one who dies, is the one who kills (all)
–
The news Trailer of 'Ambush' end: Kevin Costner and Woody Harrelson go out to hunt down Bonnie and Clyde in the new movie of Netflix was originally published in Espinof by Juan Luis Caviaro .

Espinof
Trailer of 'Ambush' end: Kevin Costner and Woody Harrelson go out to hunt down Bonnie and Clyde in the new movie Netflix