We tried to fund the sequel to the title from Ubisoft.
Today on Vandal TV we bring you the videoanálisis Watch Dogs 2, the sequel to the title of Ubisoft of 2014 set in the world of hackers and cutting-edge technology. After our full analysis in text, we offer the corresponding edit in the format video.
Video: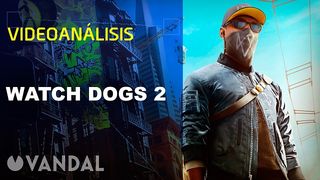 Our opinion
Vandal has already been analyzed, getting a 8.5 end note. The sequel to the Ubisoft game I tell you "get to offer a video game that is fun, full of content and loaded with action that far exceeds what we saw in the first delivery and that, despite not being a revolution, includes news narratives and playable very interesting, both to fans of the genre, as well as for all those who feel attracted by its spectacular setting."
launch will take place tomorrow 15th of November in PS4 and Xbox One and November 29 on PC.
More videos on Vandal TV
we remind that both this video as well as other analysis, gameplay commented and all types of photo shoots of Vandal TV, you can see here on the website and in our channel YouTube, we encourage you to suscribáis.
Vandal TV: Videoanálisis of Watch Dogs 2
Source: english
November 14, 2016