The classic remake of the first Sony console will go on sale the 25th of October.
Sir Daniel Fortesque, one of the most charismatic characters of video games, will return from the dead next fall with a full update graph of their first adventure of 1998 for the first PlayStation. We speak of Medievil Remake, which will go on sale on October 25 to PS4 for a price of 29,99 euros, and that was the great protagonist of the last State of Play.
Today I bring you a comparison video in which you can best appreciate the similarities and differences of this remake of the original game released a whopping 21 years. It is curious how, in spite of the face wash on a graphic level, it has been decided to maintain the structure and design of the levels and enemies, keeping the essence of the videogame PlayStation.
Video: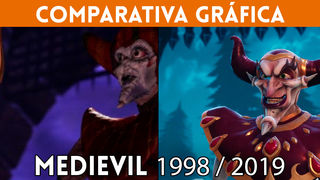 This remake, improving the audiovisual section, and adapted to the modern times, has also paid tribute to the first game, keeping the gameplay of the original, which was an adventure of mixed the action with the platforms. In addition to the graphical improvements, it has also touched up the camera that follows the action and will have a new narrator (with the voice of veteran voice actress Lani Minella in the English version), and have been added to "plenty of secrets" to this classic PlayStation.
We compare the remake of MediEvil for PS4 with its original version of 1998
Source: english
May 13, 2019