If there is something you like to Xiaomi, that is to present different variants for the same phone. About four months since the submission of the Xiaomi Mi 8 and now I get two new brothers: Xiaomi Mi 8 Pro and My 8 Lite, or My 8 Fingerprint Edition and My 8 Youth Edition, as they are called in China.
For if we didn't have enough with the My 8 and with My 8 Explorer Edition, makes an appearance on the scene a new edition with the fingerprint reader under the screen, the My 8 Pro and a edition young with specifications more modest, My 8 Lite.
technical Specifications My 8 Pro and My 8 Lite
| | | |
| --- | --- | --- |
| Screen | Super AMOLED children.6, 21 the reasonbehind" FHD+ 19:9 with notch | Super AMOLED 6,26″ FHD+ 19:9 with the notch |
| Processor | Snapdragon 845 | Snapdragon 660 |
| RAM | 6/8 GB | 4/6 GB |
| Memory | 128 GB | 64 / 128 GB |
| front Camera | 20 MP, f/2.0 | 24MP sensor Sony IMX576 |
| rear Camera | 12 MP f/1.8 + 12 MP f/2.4 optical zoom, OIS four-axis | 12 + 5MP, f/1.9-f/2.0, AI |
| Battery | 3.400 mAh | 3.350 mAh |
| Other | fingerprint Reader under the screen, back transparent, dual frequency GPS. | fingerprint Reader back. |
| Price | 3.199 yuans (398 euros at the exchange) | 1.399 yuans (174 euros at the exchange) |
Xiaomi Mi 8 Pro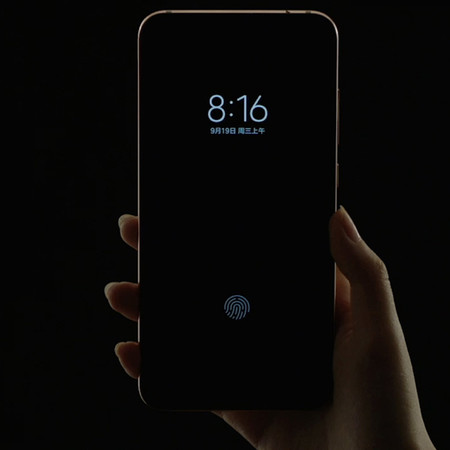 Also known as Xiaomi Mi 8 Fingerprint Edition, it seems that in the rest of the world will look a shorter name and easy. In any case, the chinese name is pretty self explanatory of what you can expect from this new variant of the flagship of Xiaomi: its main identity lies on the fingerprint reader under the screen.
Xiaomi already introduced the finger sensor under the screen in the Xiaomi Mi 8 Explorer Edition, but for some reason has decided to repeat the move in this new edition. It also inherits the rear of transparent glass that lets you see the motherboard sham.
it Really is difficult to find the differences with My 8 Explorer Edition, as they are quite subtle. For a start, the My 8 Pro is also available with 6 GB RAM, which makes it possible to reduce somewhat the price (of 3.699 yuan / 460 euros on the Explorer pass to 3.199 yuan / 399 € minimum price).
Another difference that jumps to the view are the finish. The Xiaomi Mi 8 Pro is available with a clear back to the Explorer, but also in a colorful finish, duotone, red and orange.
Xiaomi Mi 8 Lite
Under the same equation, if the My 8 Pro is the Explorer Edition, the new Xiaomi Mi 8 Lite is the spiritual brother of the Xiaomi Mi 8. As this is is a cheaper version rebate some premium components to achieve adjust the price. Young people do not have so much money.
So, the Snapdragon 845 is converted into a more modest Snapdragon 660 and RAM and storage, which include a previous stage: available with 4/6GB of RAM and 64/128 GB of storage. The rear-facing camera receives a certain downgrade, because it goes from being a dual 12 + 12 MP to 12 + 5 MP, yes, with the same functions of AI you'd expect.
Receiving in china the name of Youth Edition (or the version for young people), what is it that young people want, according to Xiaomi? Since not only a mobile phone that cost them less, but that have a better camera for selfies (24 MP instead of 20 MP of My 8 normal) and a few finishes duotone the sea of colorful with the that prevent the potential customers fall into the temptation of getting an iPhone XR.
Versions, prices Xiaomi Mi 8 Pro and My 8 Lite
Both models have been announced in China, so that by the time we can not confirm if it will be available for sale through official channels outside of your country. These are the official price for the different versions.
My 8 Pro 6GB/128GB: 3.199 yuans, about 399 euros.
My 8 Pro 8GB/128GB: 3.699 yuans, about 460 euros.
My 8 Lite 4GB/64GB: 1.399 yuans, about € 175.
My 8 Lite 6GB/64GB: 1.699 yuans, about 211 euros.
My 8 Lite 6GB/128GB: 1.999 yuans, about 250 euros.
The Xiaomi Mi 8 Lite will go on sale in China next September 25, while the Mi 8 Pro will a bit before, on the 21st of September at the official points of sale of Xiaomi.
–
The news Xiaomi Mi 8 Lite and My 8 Pro: one for youth and another sensor under the screen was originally published in Xataka Android by Ivan Ramirez .

Xataka Android
Xiaomi Mi 8 Lite and My 8 Pro: one for youth and another sensor under the screen
Source: english
September 19, 2018