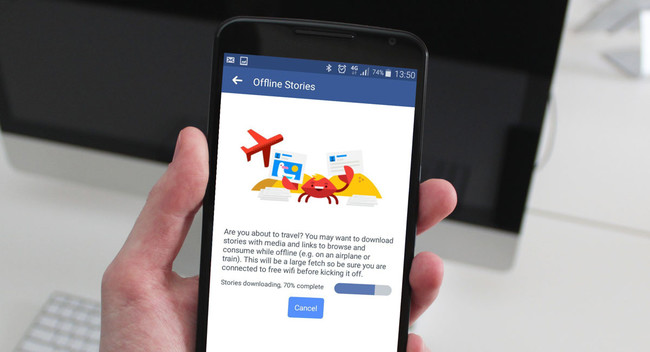 are You going to be offline for a while? Maybe you're traveling without a mobile data or in the middle of a long flight? Then sure that you have prepared music, vídeos and other games and apps, but there is something that you might miss: your social networks.
Facebook leads from the past year to improve its functioning with Internet connections that are unstable and directly without connection, as is the case of the mode saving data or the versions Lite Messenger and Facebook, but the thing goes further: directly you can download the contents of your feed in Facebook to see it when you're not connected.
Download your Facebook and then
From a few months ago Facebook it takes a long best with unstable connections, in such a way that it is possible to even comment and give me love to publications without an Internet connection, in which case the data will be transferred as soon as it regains connectivity.
however, even if Facebook caches in an acceptable form, within a few minutes without a connection, you'll run out of news. What can you do then, picking up a book or meditate deeply? No, the solution is in the function Offline Stories that apparently is testing Facebook.
If you want to check if you have this feature turned on, you must go to the application menu of the Facebook and scrolling down to the section Help & Settings. There should show up Offline Stories, with the icon of a plane.
The window of information already informs you that the download can be considerable, although do not go too much in detail. In my case, the truth is that the download has not been more than 30 MB, but it never hurts to make sure you have an Internet connection.
once the download completes, the button changes to send to the feed. Of course, if you want to try the effectiveness of this download, the first thing you have to do is disconnect from the network or turn the airplane mode. A pop-up message notifies you of how many stories have been downloaded (in my case, 185).
Use Facebook offline
offline, and after downloading the data, Facebook does not show any indication to show us that you are using the downloaded data: everything is normal. You can scroll through all of the publications, give I like, comment on and even read articles Instant Articles.
The 185 publications that has downloaded my Facebook the truth is that dan for a good time shifting. It took Me a good while and a lot of slides with the finger to get to the bottom of the matter, literally: the place where you have just the publications.
although the cover of Facebook just shows changes with respect to if you had connection, other sections yes, obviously complain about the lack of connectivity, as the notice available on the videos tab in direct.
it is Not clear if this feature is officially available for all, or it is an experiment, so if you do not appear in your Facebook the only thing you can do for now is to keep your application up-to-date and wait.
In Xataka Android | Facebook Messenger is compatible with Android Auto: notifications and voice answers
–
The news How to "download" the news from Facebook to read them offline was originally published in Xataka Android by Ivan Ramirez .

Xataka Android
How to "download" the news from Facebook to read them offline
Source: english
November 17, 2016