the phablets are phones soul tablet; the size of the screen is your greatest virtue, but can also be its biggest flaw. Mobile large format visual experience placed ahead of the functionality offered a more compact terminal. And there's nothing like a big screen to watch videos, read news, answering emails or enjoy a game.
If you are willing to sacrifice some of the convenience of use in exchange for a panel wider, what unless you get all the juice. We offer the best applications to squeeze all the capabilities of your phablet
.
The phablets yesterday and today
it was September 2011 when Samsung dared to the first Samsung Galaxy Note, a smartphone screen 5.3-inch that came with an integrated stylus. Samsung had not invented the wheel, but the Galaxy Note was the trigger that started the war of inches, inaugurating this type of smartphones we know today as phablets.
Samsung had not invented the wheel, but the Galaxy Note was the trigger that started the war of inches
Today, phablets have emerged as a favorite category for users and the big screens have democratized. No longer reserved for more pointers terminals brands, but that can be found in mid-range devices that do not punish both the pocket.
The diagonals have grown and it is rare to find terminals less than 5 inch than the mini compact version or shift. To sample the 5.3-inch Galaxy Note first that seemed so huge to us a few years ago, they have become a rather average format, the heap. The border is increasingly blurred, but might consider that a smartphone is a phablet when the screen is greater than 5.5 inches and less than seven. After this limit and would enter the field of mini-tablets.
what would a phablet without applications? According to the latest report Flurry Analytics, phones with screens from 5 to 6.9 inches are responsible for a 58% increase in the use of applications during 2015.
The data does not lie. Users of this type of equipment spend more time reading news or watching videos than most, which shows that in this mobile, size matters.
Productivity
There are several areas in which phablets can realize their full potential and productivity is one of them. Manage mail, organize the agenda or create documents is more fluid if the screen is wide. With these apps your phablet will be the perfect ally at work.
1. Google Drive
Google Drive is more than a storage service in the cloud. the solution Google is a tool comprehensive productivity gives us the opportunity not only to store files, but also create documents with Google Docs, shets and Slides, and to collaborate with other users.
Google offers 15GB free to store all types of files in the cloud, but from there You have to subscribe to Office 365 ($ 1.99 x 100GB per month and $ 9.99 per month for 1 TB).
In Google Play | Google Drive
2. Microsoft Office
It is impossible to talk about my productivity and not to mention office suite par excellence: Microsoft Office. The mobile version offers the same features as the desktop version, organized in a simple screen that a phablet is well suited.
In addition to the usual trio (Word, Excel and Powerpoint), do not forget OneNote, the app to create lists, and OneDrive, cloud Microsost to keep all your documents always synchronized.
To enjoy all the benefits of Office, you need to hire a Office 365 subscription for 69 euros if it is for personal use and 99.99 euros for the home version (up five teams)
In Google Play. | Microsoft Office Mobile
3. ezPDF Reader
it is a classic, but is a tool essential to manage PDF documents. Read, edit and fill forms easily. In addition you can make handwritten notes with your finger or with a stylus, in the case of having this accessory.
ezPDF costs 4.71 euros, but there is a free version that provides a test of all functions for 15 days.
In Google Play | ezPDF Reader Free Trial
4. Cal: Any.do
There are very complete applications to organize the schedule, starting with Google calendar, but few have a as visual as proposed Cal interface.
Simply add your Google account to show Cal upcoming events you have scheduled. The appearance is very minimalist and allows moving from weeks to monthly view with a simple gesture, all with very striking background images. It is also completely free
In Google Play. | Cal: Any.do
5. Inbox
As with calendars, mail clients are also many and varied. The reason for choosing Google Inbox is, again, its interface.
Inbox proposes an inbox that is structured differently so you can see everything at a glance, and what better than a wide screen to take full advantage. Grouping messages by subject and displays attachments directly without having to enter the message.
Inbox is totally free and works with the same Gmail account but does not replace the service, but acts as a complement.
In Google Play | Inbox by Gmail
reading
reading is one of the most popular among mobile users activities, and phablets offer a good balance between portability and visual experience-you can read anywhere without leaving. eyes This is our selection of reading tools:
6. Feedly
It is one of the most popular RSS aggregators. With Feedly You can design your own newsfeed of the media that interest you, directly on your mobile. The design is quite similar to the web version, but includes some changes as news highlights full screen.
Feedly is free, but there is a Pro version (5.41 dollars per month) with more features as the ability to add unlimited sources, alerts and search keywords filtered
in Google Play. | Feedly
7. Flipboard
another newsreader that can not miss in your phablet. Flipboard lets you create your own digital magazine a la carte, selecting general topics or media content you choose. Also, you can link your social networking accounts to see the latest posts from your contacts.
The design is what makes different Flipboard. The interface is divided into a kind of irregular reticle that prioritizes the most important issues and why we move through the pages, like a magazine. You can also create your own magazine for you to follow other users, and all for free
In Google Play. | Flipboard
8. Pocket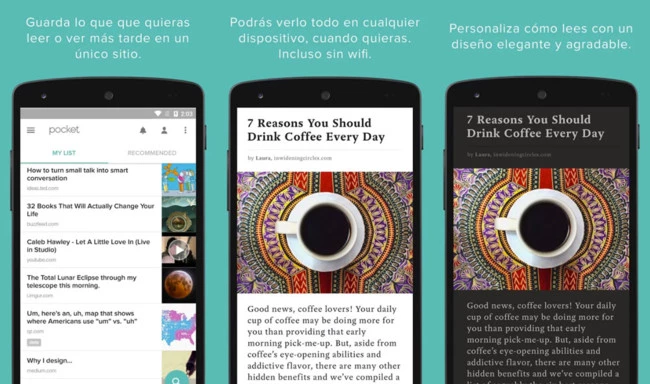 If you are someone who prefers read without distractions, Pocket is a good option to save the items that interest you. It offers a very clean interface that gives all the text prominence and allows you to adjust the background color (white, black or sepia), typography and screen brightness.
You can add content from a link that happened to you a friend from the browser, Twitter, Facebook and many more services. In this case there is also a Premium version with more capabilities such as permanent library, which stores content even deleted from the network. It costs 50.22 euros per year
In Google Play. | Pocket
9. Kindle
with a library of more than one and a half million e-books, Amazon Kindle is an app must for lovers of reading. From the same place you can access your library of purchased books or browse the store to get your hands on new titles. There is a good selection of free classic books and you can also add your own documents.
The reading interface offers many configuration options. You can choose from eight different fonts, adjust the line spacing and margins and change the background color
In Google Play. | Kindle
10. FBReader TTS Plugin +
FBReader is one of the most comprehensive reading apps you'll find in Google Play. It combines a full-screen interface with a range of plugins of the most interesting, from support for multiple formats (CBR, CBZ, PDF …) to a system that translates text to speech.
With FBReader any book can be transformed into an audiobook. Simply install the plugin and FBReader FBReader TTS will read the book for you.
In Google Play | FBReader + TTS Plugin
Media
We have said that the phablets sacrifice of the handling that provides a compact sake of a more complete visual experience, and better than watching videos to take advantage of the benefits of a larger screen. the multimedia consumption is the key in this type of equipment and with these applications always have interesting content to see.
11. YouTube
little can be said that YouTube is not known. With more than one billion users around the world, YouTube is the reference in the segment of online entertainment. Your mobile app, which also comes installed as standard on Android, is responsible for more than half of all displays of service.
La Virtual reality has also reached YouTube and is now possible to watch any video using mobile and a type Google Cardboard glasses to enjoy a more immersive experience
In Google Play. | YouTube
12. Netflix
He landed in Spain in October 2015 with a catalog of just over 1,000 entries and today has more than 1,600 titles according to the list of AllFlicks. The offer is still very limited when compared with Netflix United States but is constantly updated and do not forget the own productions. Series as Narcos, Sense8 or Jessica Jones are exclusive content of the platform.
you can be accessed from a Smart TV, the computer, the tablet and, of course, mobile. Netflix is ​​free for the first month, then you have to pay 7.99 euros for the basic subscription, which only allowed access from one device simultaneously. If you want to see Netflix on more than one computer, you'll need to make the standard plan for two screens for 9.99 euros or Premium mode that supports 4K and can be viewed on four screens.
In Google Play | Netflix
13. Twitch
Twitch is a streaming video platform where viewer can choose whether to be or become creator. Its main focus are video games and offers plenty of channels to watch gameplays of the most popular games in HD.
There is also room for other subjects such as music and creativity. With Twitch you will see renowned illustrators working on their creations, famous DJs like DeadMau5 composing new songs and even recipes live. Twitch is free, but some channels offer payment plans that eliminate advertising
In Google Play. | Twitch
14. Periscope
Periscope is an app live broadcast with a strong social component. To begin start in with the same account Twitter, so from the beginning we have a network of contacts already created, and you can also locate nearby retransmissions simply browsing the map.
The operation has no secret. Just press the record button to start streaming live and that other users can connect and comment.
In Google Play | Periscope
Creative
The screens phablets can also be a canvas to unleash your creativity, either by editing a photo, a video or doing your own drawings. This is our selection of creative tools:
15. Snapseed
the thing has been fought between Snapseed and VSCO, but we have finally selected the proposal of Google for its versatility and ease of use. it has many parameters that can be selected by simply sliding your finger vertically and adjust after swiping horizontally.
The good thing is that Snapseed combines a simple, seamless interface to make a quick touch with a wide range of editing options to entertain more and get more specific effects.
In Google Play | Snapseed
16. Adobe Capture CC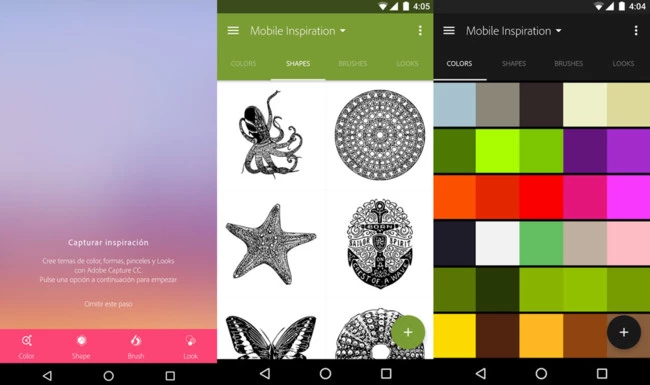 Adobe Capture is an application that should not be missing in any graphic designer phablet. Through the camera, you can capture various resources that you can then apply your designs with Illustrator or Photoshop.
If you are looking inspiration for a design, Adobe Capture can be a very handy tool. With this app any image can be converted into a vector shape, a pattern, a color palette and even a brush-but to take full advantage you need an Adobe account CC
In Google Play. | Adobe Capture CC
17. Autodesk Sketchbook
Autodesk has a very interesting range of creative apps, including Autodesk Sketchbook is a tool to make quick sketches.
Includes various drawing tools, geometric shapes and also allows you to add text and images. Although if you want to get better results in your drawings, get a stylus
In Google Play. | Autodesk Sketchbook
18. S Note
Samsung is the brand that is serious about this from the phablets pencil S pen included in all products of the Galaxy Note series is the key for apps like S note prove as practical.
with the S Pen you can draw a picture or crop part of an image to paste it into a note. You can also add graphics, illustrations and even voice recordings. S Note combines well your creative side with one side more business, as an interactive pad to store all kinds of ideas. The only downside is that is unique to Samsung
In Google Play. | S Note
19. Bonus: Omni Swipe
we have already said that a phablet can be a very practical and versatile tool in different areas, but what happens when this tool does not offer convenient handling? As we approach the six inches walked into a sensitive area, so we wanted to offer an app focused on facilitate the use of phablet.
Swipe Omni is a popup menu that is extracted sliding thumb from the bottom right corner. From here you can access various utilities, favorite applications and recent using one hand
In Google Play. | Omni Swipe
In Engadget Mobile | La sad reality lover phones less than 5 inches
In Engadget Android | Las best productivity applications for Android in 2015
–
The news The 19 best applications to take advantage of your phablet was originally published in ​​Engadget Android by Amparo Babiloni.
Xataka Android
Presents its first trailer.Ubisoft confirmed, after several rumors and lea...
More superheroes. More heroines. More Marvel. Now it is Freeform, th...
A includes a replica of the Nomad ND1.Electronic Arts has revealed today, ...
It is 'your Netflix' game. EA has announced that Origin Access new s...
Bibliography ►
Phoneia.com (May 30, 2016). The 19 best applications to take advantage of your phablet. Recovered from https://phoneia.com/en/the-19-best-applications-to-take-advantage-of-your-phablet/

About the author
---
This article was published by
Phoneia
, originally published in English and titled
"The 19 best applications to take advantage of your phablet"
, along with 19040 other articles. It is an honor for me to have you visit me and
read my other writings
.