a year Ago, Google removed in Android P the protocol WPS (WiFi Protected Setup) by their recognized security problems, promising that in the future version of the operating system would be replaced with such a function, and so it will be on Android Q.
Android Q replaces the protocol WPS already obsolete by its successor, by Wifi Easy Connect, the new standard from the Wifi Alliance that facilitates the connection to the Wifi network without typing a password.
So is Wi-Wifi Easy Connect Android Q
The technology Wifi Easy Connect allows us to connect our Android device to a Wifi network securely through a QR code, a sticker, NFC or via a scan of Bluetooth low-energy (BLE). The wifi Alliance is to load the vulnerable PIN that was easy to attack with brute force.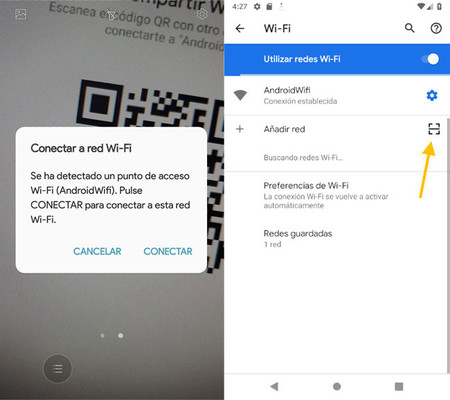 As we saw them in march, Android Q already allows you to connect to a Wifi network by scanning the QR code on our router. It also allows share our Wifi connection showing on the screen of our mobile your code QR.
for years, also our Android device is also able to connect to a Wifi network through a sticker with NFC. Now with Android Q you can also connect via Bluetooth, you will pass the credentials for the connection. All complying with the new standards of Wifi Easy Connect. It seems that very soon it will be history of having to type in that long key, now only need to aim the camera at the QR code on our router and will be connected our mobile to the Wifi.
Via | 9to5Google
we Also recommend
Android Q: the new bubble chat to be hidden in the developer options
The code of Android 10 Q lets see a function to detect a car accident, that only would work in the Google Pixel
Android 10-Q does not allow to mute or block the notifications from the Messages app
–
The news Android Q use 'Wifi Easy Connect' as a substitute to the vulnerable WPS was originally published in Xataka Android by Cosmos .

Xataka Android
Android Q use 'Wifi Easy Connect' as a substitute to the vulnerable WPS
Source: english
June 10, 2019