Not all mobile phones allow you to change the screen font without root, but for the moment it is still possible to do it in the layer of Samsung. This is done from the settings menu, but when looking for new sources to install you see yourself relegated to the few options available on Galaxy Apps, most of them of payment.
we have Already seen previously how to install the typography of Google in a mobile Samsung, but what if you want to install any other? In such a case you have other specialized applications as GxFonts, from which you can download fonts easily, as well as use your own font in format TTF.
1. Download new fonts
The main function GXFonts is the download of fonts so that you can use in your mobile Samsung. And the truth is that the process is very simple as there is no advertising or anything in the middle to distract you on the way. The first tab, Fonts, has a nearly endless list of free sources and ready to install.
it Is possible to install fonts custom from a TTF file, although this is a paid feature. The good news is that it won't cost you much. You can unlock GxFonts Pro by 0,59 euros (or a higher figure, if you're feeling generous or want to support the development).
If you're looking for one in particular, you can write your name in the search bar and a drop-down box in the top right allows you to filter out those that have compatibility with some specific characteristics. If not, you can always swipe until you see something that you like, because it shows a preview of how it looks each source. When you see one you like, click Download.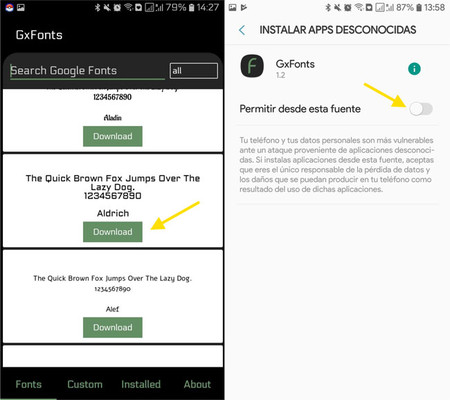 Generally the fonts are downloaded very fast because it take little. When it is downloaded, tap on Install. Each type of screen is a stand-alone application, so that GxFonts you need to have permission to initiate the installation of applications. You will be automatically prompted the first time you try to install a font.
the GxFont does not trigger the new source for yourself, so that this process should lead out you from the settings. However, these new sources will not appear until you restart the system. If you're going to try several at the same time, I recommend you install them all at once and then restart.
2. Use your new typography
For the rest, the work of GxFonts ends here. To change to new fonts downloaded from the application you should use the settings of Samsung, going first to the (Screen and then to Source and screen zoom. There should show up your new fonts. After you choose one, you can see a preview of how it will look in the system.
at this point you do not need to already GxFonts so you might as well uninstall it, although from the tab Installed have a list of the fonts that you've installed from the app and you can easily clear. Maybe not for the space they take up (less than 100 KB each) but by doing cleaning.
This font should remain in the system until the change, although a notice on the application you indicate that in the case of stop working, uninstall custom fonts, use the default theme for Samsung, reboot the phone and reinstall the fonts.
GxFonts – Custom fonts for Samsung Galaxy
1.2
Via | XDA
we Also recommend
what Mouse to Provided? This is the config ideal of DPI and sensitivity
After Fortnite, Samsung would invest $ 40 million to be the exclusive of a future Harry Potter game
How to use the font of Google in a mobile phone Samsung
–
The news Download new fonts for mobile Samsung with GxFonts (and without root) was originally published in Xataka Android by Ivan Ramirez .

Xataka Android
Download new fonts for mobile Samsung with GxFonts (and without root)
Source: english
January 9, 2019