20 MINUTES.IS
Google celebrates this 27th of September, his 19th birthday.
celebrates by turning their logo on the roulette Google Birthday Surprise Spinner, that includes 19 games that were successful 'doodles' interactive in its day.
The date of this anniversary has changed several times over the years.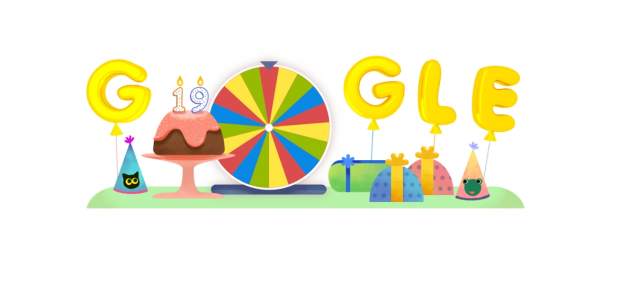 there is No date specified in the calendar of the Google do not you remember, and your way to prove it is often more creative and artistic, with the original doodles that transform their famous logo on curious visuals, sometimes even interactive.
That is the case of the last doodle, a classic, which is dedicated to themselves every year on the occasion of their anniversary. This 27th of September, to celebrate its 19th birthday, Google has opted for a fun roulette of fortuneis composed by 19 older games that already tiunfaron as doodles in the past.
The roulette Google Birthday Surprise Spinner includes pastimes such as Tic Tac Toe (three in a row), a music game, an adventure of magic-style Harry Potter, a test to find out what animal you are or a visit virtual the Galapagos islands.
The date of this anniversary has changed several times over the years. The roles of the foundation of the company is presented in the September 4 of 1998, but has never been used that date as the anniversary.
From 2005 began to consider the birthday the 7th and 8th of September and later 26. From 2012, it was stipulated that it would be 27, because the managers of the company wanted to coincide with a record of indexed pages accomplished that day.
"When is the birthday of Google? the I'm Not sure that we know", wrote in the Google blog in 2013 the head of Google's doodles, Ryan Germick. "There are different opinions about when to pull out the cake and candles, but a fun fact is that the first doodle climbed before Google out official (August 30, in front of the September 4, 1998)
4 September 1998 Sergey Brin and Larry Page, with the financial assistance from the co-founder of Sun Microsystems, Andy Bechtolsheim, created by the company Google.
Roulette of the fortune of the birthday of Google
Source: english
October 2, 2017