20minutes
A coupon session of Return of the Jedi made in 1983 have been recovered by Rolling Stone.
For them, Fisher saw the iconic golden bikini Leia on the beach.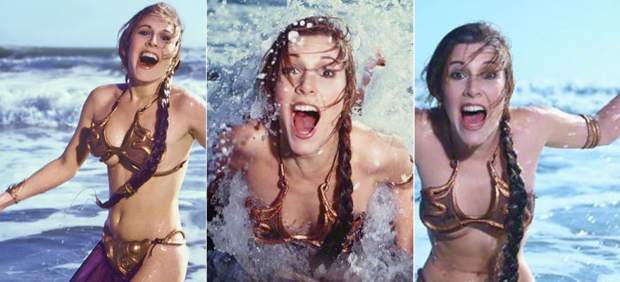 The images of Carrie Fisher in the role of Leia with gold bikini the Return of the Jedi made her an icon pop for fans of the series three decades ago.
Rolling Stone has now recovered some pictures, taken in 1983 to promote the film, in which you can see Fisher with that outfit on the beach, relaxed and posing provocatively. A sexy and funny vision of a character, which moves away from the scenes in which Fisher appeared as slave of Jabba the Hutt.
The snapshots have become a phenomenon networks. Interestingly, they coincided in time with the controversy sparked by the reviews that followers of Star Wars have to Fisher for his physical state The Dawn Force and has led the actress to href="http://elpais.com/elpais/2015/12/30/estilo/1451469679_987972.html" answer critics asking them to leave the debate about whether it has aged well or badly.
The photos have been successful in the Social Networks and not only confirm that classic characters like Leia, recovered in the new trilogy, are more present than ever in the universe Star Wars .
The photo shoot of Carrie Fisher as Leia on the beach sweeps Internet
Source: english
January 3, 2016