Android native always has missed more customization options to customize things like quick settings bar, status bar or display the percentage of battery. Well, among all the novedades Android 6.0 Marshmallow find new customization system .
The new Android customization options are hidden. To enjoy that extra customization we have to activate the new System Configurator UI
. <! – More ->
How to activate the system configurator IU
On the System Configurator IU is very simple, we only have to lower the bar for quick adjustments and make a long press for more than three seconds in the gear icon , in access to the settings.
Once we have done already activated in Settings the new Configurator UI system with all its customization options. In the gear icon of rapid adjustments we appear next wrench indicating that we have activated.
Android inform us that these new customization options are experimental, they may fail or disappear in future versions. For now it allows us to customize the quick adjustments, the status bar, display the percentage of battery and activate your new demo mode.
Customize Quick Settings
Now we can customize to our liking quick settings bar, moving from their position and eliminating switches that we are not going to use.
Customize Status Bar
</div >
If we have a status bar can now disable cleaner icons from appearing again, although this option very few people use, since it is always handy to know in what state the device and we have enabled at all times.
Show battery percentage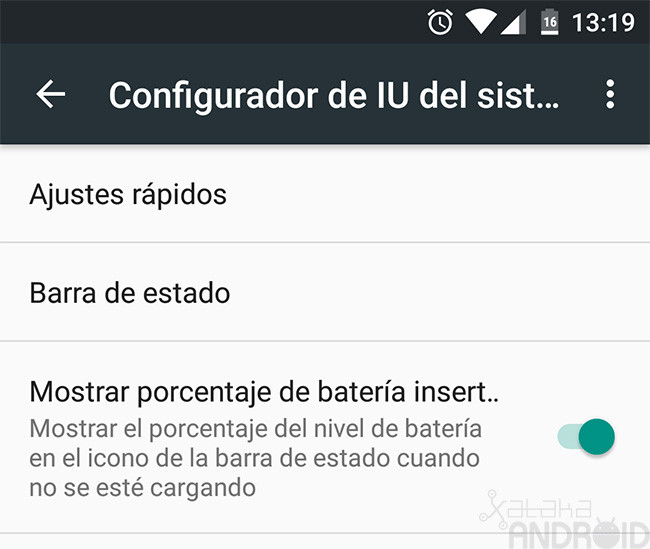 One of the features most requested by many was to see the battery status from the status bar, and we can now turn from this new system configurator UI.
Demo Mode
The developers and publishers they have to make many screenshots now the new demo mode that temporarily replaces the status bar for a totally clean notifications, showing only icons Wi-Fi, battery cover and butt together at 6:00 as when a clear reference to Android 6.0 Marshmallow.
How to disable UI Configurator
system
If you want to disable System Configurator UI just have to repeat the same step in its activation, make a long press on more than three seconds in the gear icon bar for quick adjustments. We will confirm to deactivate
In Engadget Android. | Cómo manage permissions on Android 6.0 Marshmallow
–
News How to activate the configurator UI system Android customization hidden Marshmallow was originally published in Engadget Android by Cosmos .
Activating the system configurator UI, Android customization hidden Marshmallow
Source: english
October 16, 2015